Reading Time:
43
minutes
Louvered Patio Covers | Los Angeles California
A Review of Manufacturers
---
UPDATE
THIS ARTICLE WAS UPDATED ON 4-1-23
What is a motorized patio cover with Louvers?
Contrary to what most people think about patio covers… they're not always meant to be open. Or closed for that matter. Surprisingly, many people have no idea that louvered patio covers are even a "thing". Well, they are. Albeit these types of covers are popular in commercial applications, still, we install these in residential as well.

---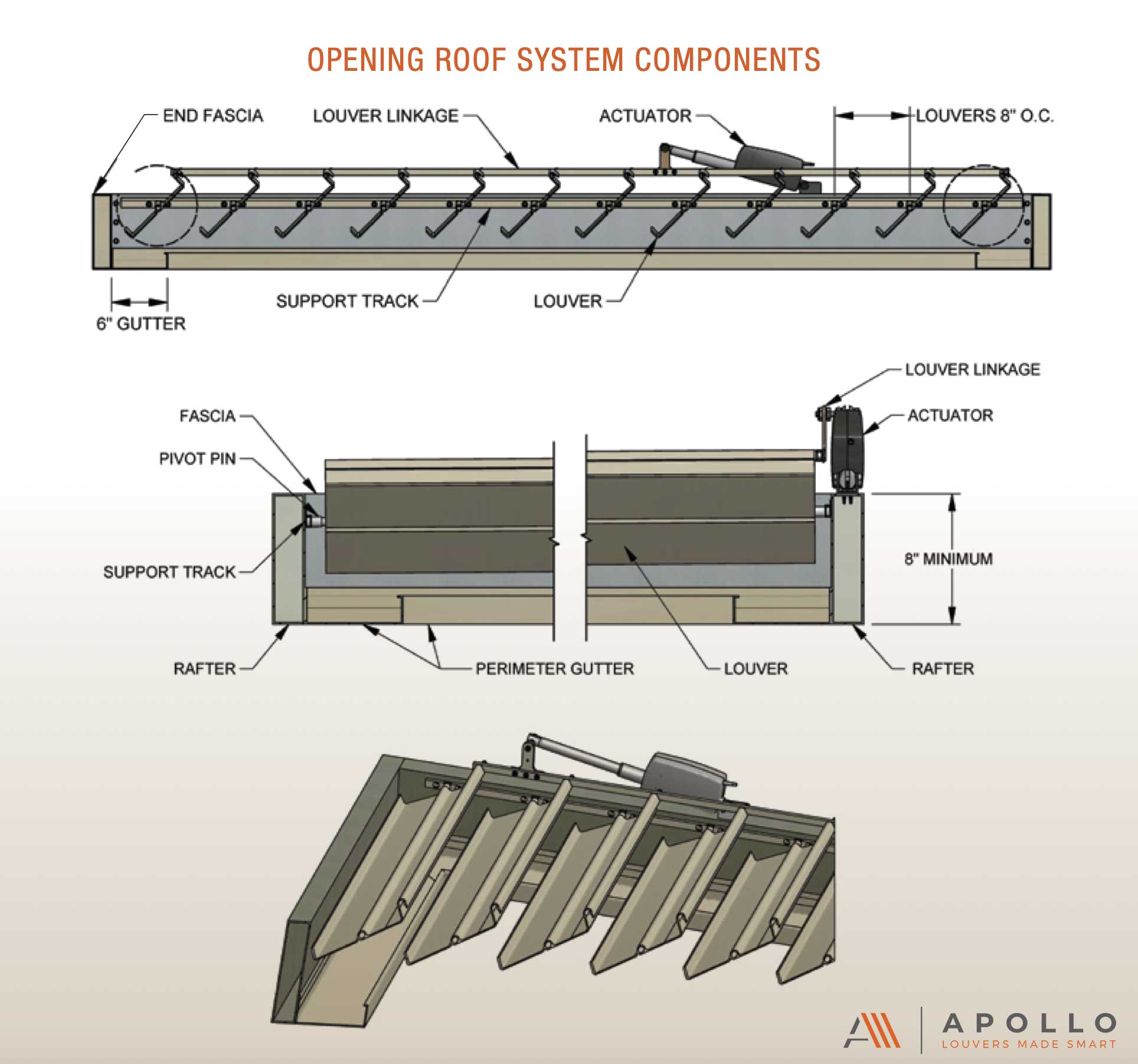 ---
Let's not forget that there are some houses that look like commercial buildings in every way imaginable. Despite the fact that Los Angeles, California gets little rainfall annually, having the ability to open and close your patio cover on a whim is nothing short of cool.
How Much Does a Louvered pergola cost in California?
Here in Southern California, the extruded
louvered patio cover's cost
range is $50 (Solara) to $300 (Renson) installed, and up. Roll-formed Louvered patio covers can cost as little as $25-$50 (Solara) installed.
As with everything in life, money is usually the deciding factor when making any decision. No matter how much of it you have, counting your pennies is just a way of life. In order to provide you with an estimated cost of this product, we had to contact all of these major suppliers of opening roof systems. What we did find throughout our investigation is most all of the manufacturers are within $25 of each other per square foot. At least all of them with the exception of Solare's roll-formed kit and Luminox extruded louvered patio cover.
Expect to pay more
Louvered patio covers or adjustable louvered pergolas are just that, slated or louvered strips of metal usually aluminum. These types of opening roof systems simply allow sunlight in when you want and closed when you don't. For example, these electric roofs allow the user to close them when it's raining for a water-tight seal. Or, open for complete sunlight. Unlike the traditional lattice or covered patio covers you might be familiar with, these types of automatic patio cover roofs give you the very best of both worlds.
Back to top of page

---
The Benefits of owning a louvered patio cover
As one might expect, there are multiple benefits to owning a louvered patio cover. As previously mentioned, having an automatic patio cover that can open and close, gives the owner more use of their property. In the back yard, it means more area to entertain or play. If it's a commercial installation, it means more seating areas thus, more revenue.
Although it's not nearly as tropical here in Los Angeles as say… Florida. Still, we Angelinos love to sit out in the rain right? What better way to do this than under a fully covered patio Cover? This is exactly what louvered patio covers offer. In a word… Versatility.
Louvered Roof Patio Covers in Los Angeles are Good For Business
Even though Los Angeles, California is considered the sunshine state, there are times when we need a little shade or protection. Likewise, rain isn't on many people's radar out here but we still need to consider it. Especially when we own places of business where people gather.
Louvered patio covers are a great solution to the needs of business owners everywhere. Not only do you gain more useable space for people to dine in restaurants, but you can also shield the patrons from the weather, no matter what the weather brings.
More space out of the harsh sunshine or rain brings more clientele. Adding space to an existing building is expensive. Alternatively, you can build these louvered patio covers for a fraction of the cost of adding brick and mortar square footage. Adjustable louvered patio covers provide this and more. Adding heaters and misters is easy. Not to mention these components are all controlled via your smart device.COVID 19 regulations
With many businesses in the year 2020, outdoor dining is now the "new normal". In fact, without outdoor dining, many of these businesses won't survive. Soon, many businesses who never imagined outdoor seating would be so beneficial will have a change of heart. Automatic louvered patio covers are just the ticket. Not only can you survive the COVID regulations but you can flourish well after this pandemic is behind us.

---
A few things that can change the price of your adjustable patio covers
Understand that pricing is subject to variations within the patio cover system itself. Here are a few things that might affect the pricing of your Louvered patio cover system.
First off, the color of your louvered patio cover will affect the price. Sure, these systems all come in standard colors, however, custom color options are usually available with most manufacturers. That said, changing the color of your adjustable patio cover is likely going to be an increase in price.
Secondly, is the size. Of course, a 100-square-foot patio cover isn't going to be the same price as a 1000-square-foot cover with aluminum louvers.
Third, we have the installation. Although most of these patio covers are expected to be installed in their own footings. Some might be installed on rooftop decks. That is to say, within a wood frame. Instead of cement as its main connection to the earth, it'll be the wood structure transferring the load to the earth. Most louvered patio covers make their traditional contact to earth through existing cement slabs.
Of course, coming in last but not least, we have contractor markup. Albeit all contractors are not the same. Nor do all contractors price the same. Contractors who choose to have all the necessary insurance like workers' compensation or/and general liability will likely price their services higher. Thus, their product will likely cost more. Word of advice, NEVER work with an unlicensed, uninsured contractor in Los Angeles or anywhere for that matter.
---
Back to top of page
---
Choosing the right adjustable louvered patio cover
How to choose the right Adjustable louvered patio cover system? This is the million-dollar question, am I right? With so many manufacturers producing louvered patio covers in Los Angeles or the country for that matter, how do we choose? Allow me to lend you a hand. First, let's go through a few of the different manufacturers.
---
Do louvered roof pergolas leak?
One of the biggest questions we get is… do louvered roof leak in the rain? The short answer is Yes and no. Water will make it's way between the gutter and the louver with the curved louvers when it rains. So it really depends on the manufacturer. There are certain manufacturers who produce a flat louvered roof which is even with the gutter and those do not leak. There are others, however, that have a curved louver and those absolutely leak. When I say leak, Im not saying there are leaks within the structure itself although that depends on the installation. Im suggesting that when it rains, water will splash or leak between the gutter and the louver with the curved louvers.
---
---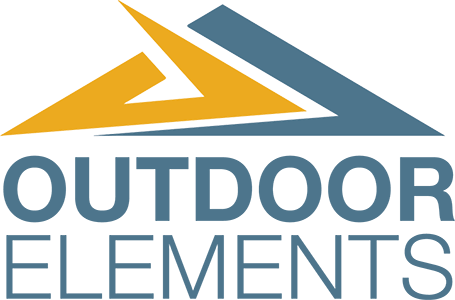 ---
---
Outdoor Elements louvered patio covers
---
---
Hailing from sunny San Deigo, Outdoor Elements is a louvered patio cover manufacturer and, as of 2022 both sell and install louvered patio covers to the general public. Having toured their factory and facility personally, I'd have to say their manufacturing systems are similar to most other manufacturers of automatic pergolas. Much like all the rest of these opening roof systems, the Outdoor Elements product carries with it many of the same features as everyone else. Extruded aluminum is, however, the order of the day. Whether it's the beam or the post of the blades themselves. Compared to many, they suggest that their product is just as solid, and strong, as their competitors.
---
Back to top of page
---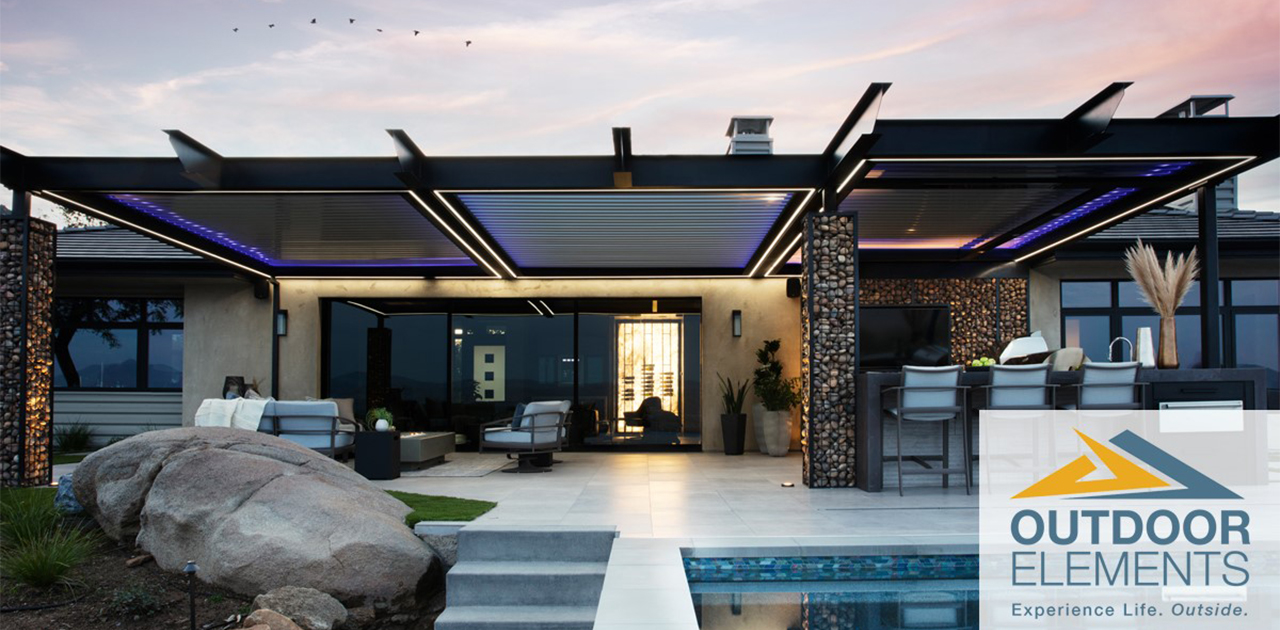 About the Outdoor Elements product
In full disclosure, we were a dealer for this company for maybe 6-8 months. During that time we sold upwards of $500,000 + in louvered pergolas. So we have first-hand experience with their product, material, electronics, and customer support.
While many other louvered pergola manufacturers get their materials from overseas, Outdoor Elements louvered roof systems materials are claimed to be sourced out of Mexico like some others and then cut here in the United States at their factory. Much like the other pergola systems available, the Outdoor Element Louvered slats claim their system can also close when necessary with the changing weather conditions. now, having installed these louvered roof systems I have to be honest and say that their rain sensors never once worked and were not at all reliable for us. If this changes, we will update. Product-wise, their louver slats claim to be equivalent or better than most other louvered roof systems that are on the market.
Besides having a strong louver, the beams and posts are also equally strong and robust. In fact, the Outdoor Elements louvered patio can extend or span as far as 22 feet. Now, having installed this product I must report, that we installed one particular cover with a span of fewer than 22 feet and the louvers (6 louvers total) would NOT SEAL when closed because the beam was sagging due to the wide span. Thus we added another post (not what the client wanted at all). This seemed to have fixed the issue. Perhaps this $60,000 cover was under-engineered? We don't know because they didn't care enough to find out.
Within all of the aluminum are concealed hangers and other attaching pieces which are hidden from the eye. Still, there are these screws installed at the exterior side of the posts and sometimes the beams which is typical for them but stinks when you are expected to pay $150-$200 per square foot for these patio covers. But, in there defense, there are only few companies that offer a louvered pergola with zero screws on the outer beam/posts connection. They would be Renson and AZENCO that we know of.
Another key point to this particular system is that the louvers rotate a full 180 degrees. Instead of getting poured on during rain, these louver slats channel water off the roof and into an integral gutter system and then onto the ground.
Outdoor Elements Features
Smart Control Systems
UPDATE
* As of 2/2023 there is no app for smart devices. This may change however in the future.We suggest calling them to see when the app is released.

Before you spend the money on a louvered patio cover system you're probably gonna want it to be automated correct? For instance, you will likely want the unit to be controlled automatically if it's rainy I'm sure. Outdoor elements provide a worry-free remote control (NOT A SMARTPHONE APP as of 2/2023) patio cover roof remote control feature that not only controls the louvers but many other ancillary components as well. However, in our opinion the remote has a very dated 70s look. Don't get me wrong, I love the 70s, but in the year 2023 one might expect a more sleek or updated handheld remote. After using these remotes I have to say we feel they are absolutely garbage and as far was being user friendly or intuitive, in our opinion they are absolutely not.
Furthermore, you might want your controls to operate the lights and other features such as heaters for example. While other companies may offer this feature as an option the Outdoor Element control package did not
.
While we are on the subject of remotes, it's worth noting that in all of the patio covers we installed that were more than 2 bays… the system (remote?) had a difficult time "syncing" the bays. This is to say for example… while 2 bays open, one will stay closed and vice versa. This occurred on multiple installations. Maybe supposed to be this way? We're not sure mainly because the owner, the field rep or customer service NEVER BOTHERED TO HELP US OR OUR CLIENT in remedying this issue.
Flexible Heating
Generally speaking in Southern California sub-freezing temperatures aren't really a huge concern. Indeed, heaters are a feature that no patio cover should be without in my opinion. Despite the fact that you can wear shorts year-round in Southern California.
Otherwise, if the fall temperatures are a tad chilly for you, you may want to consider heaters by Outdoor elements. Particularly if you are big into entertaining. Hence, adding a heating element will allow more time to be spent not indoors… but outdoors in your outdoor living area. Moreover, with the louvered patio cover system and heaters above you, you can enjoy your company even when it gets a little chilly.
Superior Screens
Looking for a little privacy. while inside your adjustable patio cover under the heaters? Of course… why not add some screens to that system? However, during our partnership with Outdoor Elements they did not offer screens. They may now… but did not then.
Creative Colors and Finishes
Of course, any high-end Louvered patio cover would be incomplete without a custom color selection. While there are six standard colors, there are also 16 custom colors. Not only can you choose one of these 22 colors they offer. But you can just as easily make up your own for a small fee. In addition to all of this, you can also mix and match your colors to your heart's content.

---
Back to top of page
---
Louver Appearance
Louvers are traditionally manufactured or extruded in two shapes. Curved or flat. Operationally, they both function the exact same way. That being said, however, there is a difference with the two shapes with respect to how well they keep the area under the cover dry. We'll cover how the water passes through the cover below here, but suffice it to say the shape itself, the curve, leaves a gap between the gutter and the louver face giving water a chance to splash out of the gutter and into your living space.
Aside from that it's really an esthetic preference. We've had more than one of our clients compare these types of curved louvers to a shipping container. What do you think?
---
---
Outdoor Element Color Swatches
---
Back to top of page
---
Outdoor Element FAQs
OE Warranty Information
---
Since we live in a day and age where all things break a warranty becomes a necessity. As a result, warranties are almost expected am I right? Needless to say, these guys at OE, have a warranty much like everyone elses. Perhaps a little longer or inclusive, but a similar warranty nevertheless.
Ten years covers the paint and structural parts. After that, we have a five-year warranty on the electrical components.
Outdoor Element Sample Images
Contact Outdoor elements Aluminum Louvered Patio Cover Company
---
My outdoor Elements Louvered Patio cover during rain
So one of the most common questions we get is, do louvered pergolas leak? So the answer to that is yes and no. Depending on the manufacturer and the type of louver they use i.e. flat or curved, they will leak. Well, in all actualailty, it's not that the louvered pergola leaks its more that water splashes out of the gutter between the curved louver and the gutter itself. Now, with a flat style louver like the ones that Azenco sell, water does not have the ability to splash out of the gutter. Below is a video of a louver pergola from outdoor elements during rain.

---
---
How Much is An outdoor Elements Louvered Patio cover?
When you are looking at the best, expect to pay a few bucks more for the product. The same holds true with Louvered roofs. Expect to pa anywhere between $150 and up to $200 per square foot depending on the dealer and their markup for the Outdoor Elements Louvered Patio Cover. Of course, these examples may or may not include any options or upgrades such as heaters etc…

---
D+
How Did We Grade them?
---
---
Our Opinion of Outdoor Elements
---
My Personal Opinion
Would I personally recommend them? Absolutely NEVER. For us, there are far too many reasons, many extremely serious, why we opted not to continue with this company to list here. However, that said, our experience may not be your experience. So you should do your homework, and speak to enough people who have actually worked with them. Aside from having done business with them, I actually own two of their pergolas at my own home and we plan to replace them with an Azenco system due to repeated issues with its operation, and its ability to fail to keep my area dry underneath from gutter water splashing out. I think they're product lacks uniqueness and innovativeness compared to Struxure or Azenco who are always updating. But as I said, it's only my opinion. I mean you will be expected to pay in upwards of $150++ per square foot installed for a basic cover. You really need to feel comfortable doing it.
---
Contact them
Call them: (855) 430 8722
Email them: info@OutdoorElementsUSA.com
See them: https://outdoorelementsusa.com

---
Back to top of page
---
---
---
Introducing AZENCO Outdoor Products
---
---
When considering a Louvered roof smart patio cover or pergola I'm sure you have certain criteria or a list of wants that need to be met. Some of these things on your list might include affordable, sleek, modern or European contemporary, aluminum, structurally sound, smart App capabilities, weather resistance, and waterproof when sitting underneath.
When it comes to Louvered roof patio covers or smart pergolas sure there are quite a few different manufacturers out there. If you look closely at them all collectively, you might start to see patterns in their design. I mean, they all sort of resemble each other.
Azenco on the other hand is a European-based product. It's a product that was conceived overseas and its appearance is unique. There are other systems with a European design such as Renson Pergola for example. Take a look closely at Azenco's appearance. Look at the louver design, the outer beam height, and the lighting options. Azenco offers a beautiful louver system.

info
In full disclosure, we were a dealer for over a year with this company which we ended.
Managment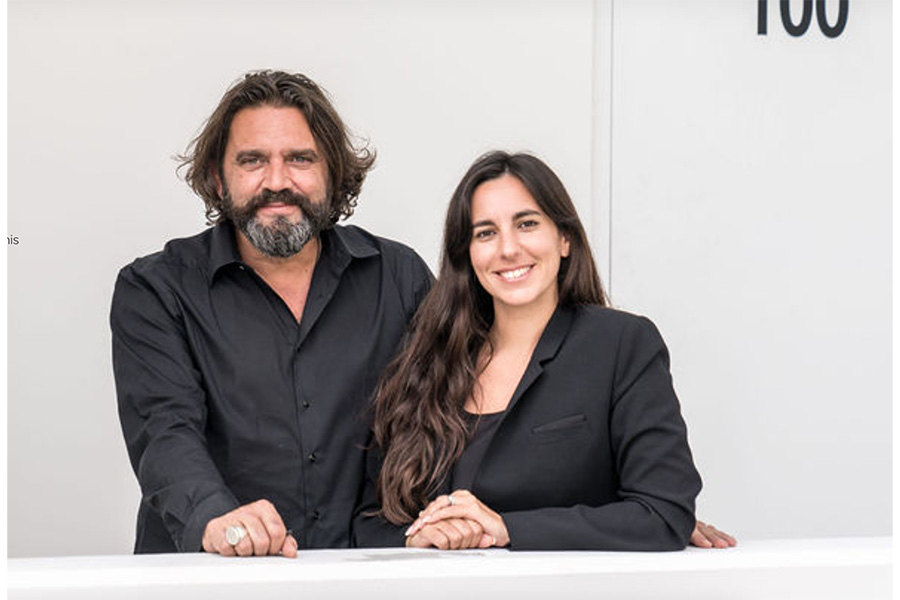 Charles Chapus CEO & Co-founder of Azenco Group in Europe. He is the company's visionary as well as creates and designs all of the Azenco Outdoor Products.
---
---
Leslie Chapus is the VP and in charge of the development of US Azenco. Owners Charles and Leslie Champus formed the AZENCO group in France in 2011. And according to their own website, they soon Expanded into Spain, Switzerland, and finally the United States in 2017. Produced in the United States, with a European design in mind, Azenco is manufactured in Miami, Florida, and distributed throughout the United States.
How Much Is An Azenco Louvered Pergola System?
We personally sold Azenco louvered roof systems for $180-$200 per square foot. Obviously, every job is different, and every area as well, so prices will fluctuate. Furthermore, understand that prices are different in different parts of your area, city, county, and even the country. So we may sell it for this price but the guy down the street may sell for way more or way less.
Are There Delivery Fees?
Because Azenco manufacturing is based in Florida, those of us who reside on the west coast are subject to delivery fees. For example, their fee to ship to us as a dealer in Los Angeles for one specific project was estimated at over $13,000. Other projects ranged from as low as $1800 to $5,200. As an example, One of our delivery fees was $3200 for a small $20,000 pergola. Keep in mind that these fees will likely be included in the overall price of the pergola.
So what we as well as our potential clients we're experiencing was having to pay for this shipping fee added into the overall price when another competitor was offering more product for the same or less of price. Which in turn was really just helping sell our competitor's product or one of our other products like 4K, Ceda Alum, Equinox or Solar for example.
To be fair other companies charge for shipping. We received a quote from a company in Colorado and the delivery for a similar patio cover was only $1200 flat fee. Another from Atlanta and the fee was the same, $1200.
We had Huge issues With Damage During Transit
So you would think that if you're shipping long aluminum finished parts across the country from Florida, you would take every precaution that the product was protected from any damage right?
On one particular project, our company received product that was damaged on multiple occasions (Shipping attempts). Resulting in our company losing time and money not to mention the client has to now wait for replacement parts, twice. The parts were re-shipped only to be damaged a second time. As a result, we had the parts repaired by a local company.
Keep in mind this was only one project. We experienced this a few times with deliveries from Azenco. Now to be fair, I'm not sure if they own the delivery trucks or subcontract that service. We only know we paid Azenco for shipping, not a separate shipper so in essence its their responsibility for the product until it arrives at my doorstep, I'm sure you can agree… Regardless, we assume they packaged the materials so they would survive a 3,000-mile trim with no damage and would stand behind the product.
Here is a video that was taken in real time of our men unwrapping their products. The manufacturer was provided with this video but chose not to replace the damaged parts…
So This Is A Shipment to one Of Our Projects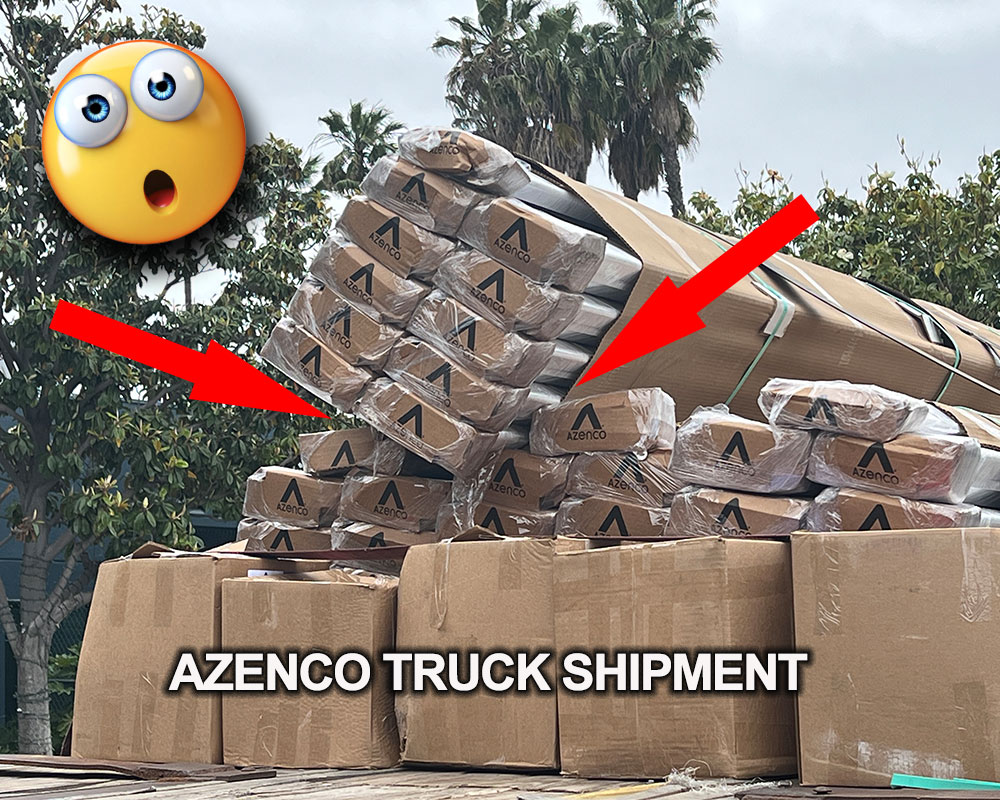 ---
---
Azenco Louvered Roof Manufacturing
---
After personally touring their Florida manufacturing facility, I can honestly say they have an efficient, clean, and state-of-the-art facility.
---
Back to top of page
---
---
Key Features of the Azenco Louvered Roof Pergola
So by now, I'm sure we can all agree on a few things everyone wants when it comes to louvered roof pergolas.
Open and close via remote control
Made of Aluminum
A water-tight system
---
It seems to me after seeing so many different types and manufacturers of smart pergolas, that there are in fact very few differences between them all collectively. It's as if many of these companies all copied each other and in the process made a few minor changes to keep them all unique from one another.
On the other hand, Azenco, just like Renson are not part of that group. I can say this because their beautiful European design is so far ahead of the others like Struxure, Equinox, and Outdoor Elements.
Azenco Features
Three Different Light Options
Azenco offers three different lighting options; ramp, rope, or recessed lights with their louvered roof designs.
16" RAMP LED Light
I think the best way to describe the Ramp light is this way… it's a short 16" led strip.
---
LED Strip Lights
So the best way to describe their strip lights is that they resemble a line of lights that fits closely to the top of the cover. Directly below the louver bay but about the beam in that corner. Most all louver pergola manufacturers have lights like these.
---
LED Recessed Lights
By now everyone knows what recessed lights are. The Azenco recessed lights are a 2" flush-mounted LED light that is dimmable and fits directly into their light/fan beam. All Louvered pergola manufacturers have these lights. Some are larger than others but for the most part, they are all the same.
---
Smart Phone App and Modern Remote
By now almost all louver pergola manufacturers have stepped up and created an app for their system. Some use secondary systems such as Somfy. Some manufacturers have proprietary systems.

---
Azenco Structurally
So when it comes to buying a louvered roof pergola here in Los Angeles, the first thing that you will base your purchase on is its appearance. The majority of louver pergolas have beams, posts, and the like…
Contemporary look
Azenco like Renson are the only Los Angeles Louver patio cover that boasts a humongous outer beam.
---
Azenco Posts
The posts are 6.5" and can either be placed on the top of a footing with a base plate and base plate cover or inside the footing. Each of these units is individually and custom engineered to fit your specific application. NOT a one-size-fits-all like some of the other
Azenco Louver design
The Azenco louver design is a flat design and looks to be a durable and waterproof design.
The majority of other Louver pergolas have a curved louver. For starters, this design does not allow the louver to sit flush on the gutter thereby keeping rain from entering the area below. That is, with the exception of the Renson, Sundance and Apollo louver designs. Of course, even though these two companies produce a flat louver.
---
Azenco Louver Pergola Gutter
With so many homes in Los Angeles being older, installing a Louvered roof patio cover is sometimes difficult due to the low roof eave height. So in order to mount a patio cover to this the louvers have to be installed on top of the roofing material.
To counter this, Azenco has designed a structural gutter system that allows for the installation of the patio cover to the structure without compromising height. Unfortunately we cant show you the images of this component.
Azenco Fan/Light Beam
In order to have recessed Led lights and or a ceiling fan, Azenco smart patio systems have designed a special beam that extends from end to end which houses the fan, lights, and wiring seamlessly.
---
Integrated Gutter
The gutter system for the Azeno is an aluminum fully extruded piece that is integrated into the framework of the pergola. The drainage is designed to be internal. That is to say, the cover drains from within the system specifically down the leg of one or more posts. In the end, it can either drain on the top of the ground or underground into your property's own underground drains.
Privacy Walls
I have to say privacy walls are actually pretty cool. Depending on how you plan out your pergola, these privacy walls offer a little bit of coziness when you are sitting under the patio cover. Renson and 4k also offer these types of walls. Instead of being installed at the front, they are typically installed on the sides of the pergola.
---
Azenco Colors
Azenco has three basic colors. They also have a custom pallet in which are hundreds of custom colors. Not only do they have these custom colors they also have multiple different wood-looking finishes.
Azenci powder coat their aluminum with the absolute best powder coat materials on the market. Their finish is designed for the Flordia weather so you can rest assured here in California, the finish will be durable.
White textured
Dark Grey/Bronze Textured
They can be expensive as hell
Black TexturedWood Grain
Custom and Wood Grain
---
Azenco Warranty
The Azenco company produces a product that few can come close to matching, especially for the price point. As a consumer, no matter who you choose to build your Louvered Pergola you will want to be insured by a decent warranty. We had an image of their warranty below however, we were asked to remove it which we did ;).

---
F-
How Did We Grade them?
---
---
Our Opinion of Azenco
---
My Personal Opinion
So as a dealer who sold and installed this product for over a year we can honestly say Azenco is in our opinion, one of the companies that we have ever worked with. We personally experienced just simply way too many issues to list. The product although beautiful was also rather expensive in our opinion, and was thus difficult to sell especially when there are many other amazing louver companies like Struxure, Renson, 4K, Ceda-Alum, and Equinox to compete against. As a consumer you may want to do your own homework and see who they are for yourself and not simply take our word, we just had an extremely terrible experience. Note* Some, but not all of these companies add-on delivery fees.
---
Contact Them
Call them: (305) 306-3204
Email them: https://azenco-outdoor.com/contact-us/
See them: https://azenco-outdoor.com/

---
Back to top of page
---
Equinox® louvered patio covers
---
If you can afford to play in this sandbox, what better louver manufacturer to work with than one as stable as
Equinox
®, a subsidiary of Omnimax International. Few companies can live up to the standards set by the Equinox® line. In fact, I'd bet that most of the other manufacturers of louvered covers more than likely used the Equinox system as a gauge, by which to make their own line. It's Miami Dade Strong while conforming to most wind and snow loading requirements. She's perfectly protected with a powder coating rather than paint. When it comes to simple sophistication, the Equinox® is extremely hard to top.
About Omimax International
Omnimax® is a pretty large company. Formed in 1996, you can find their products in just about every big-box store there is. They're a global producer of all types of different products. From Architectural copper to exterior building cladding, windows, gutter systems, and other transportation products and materials.
Managing 12 other brands which include Alumawood, Amerimax, Amerimax fabricated products, Windows and doors by Amerimax, Equinox Louvered Roof systems, Berger products, Coppercraft, Euramax industries, Ellbee, Fabrall, and Global Expanded Metals. So as you can see. Buying from Omimax isn't like buying a product from a start-up. Knowing you have this type of team behind you makes people feel warm and fuzzy about dropping some serious coin on their Equinox system.
Features of the Equinox® adjustable roofs
Interestingly enough, ordering from In n Out is pretty similar to ordering an Equinox patio cover. Thus, both are customizable. Both are popular in Southern California. Obviously, when ordering your Equinox you may want to hold the grilled onions and mustard.
In a similar fashion to ordering a Double Double, you can add items to your custom patio cover. What kinds of things you ask? For starters, you can add heaters. Of course… Heaters no problem. What else? Misters? You bet. Misters are no problem. How about lighting? Can you add lights or screens to the patio cover? Absolutely.
Louvered patio cover hardware
Of course, the Equinox® begins with an all-aluminum extruded product for maximum durability. With its 20 years warranty, there's no need for paint or any other protective measures to keep this cover looking brand new. Stainless steel mounting hardware connects the louvers to the framework. What's more, the aluminum louver hardware is stainless, it, therefore, resists rust and deterioration.
Louvered adjustable patio cover controls
Equinox® remote control with Solar for your patio cover roof
Our Equinox® lightweight louvered patio covers can be opened for the perfect amount of light or closed during rainfall. Speaking of opening… the mechanics behind the operation in manufactured by Somfi®. It's a remote-controlled smart motor with hi-tech sensors that can actually detect different weather patterns. Somfi® motors will automatically adjust open or closed depending on these weather conditions. So during high unexpected winds, the louvers will open. In the event of torrential rainfall, it will automatically close for protection.
Another great feature with the Equinox® automatic patio cover roof is the ability to use your smartphone to operate the patio cover. Using your smartphone allows versatility. For example, you can create custom scenes. Open or close the adjustable patio cover with a schedule.

---
---
In addition, the Equinox® system comes complete with sustainable solar battery packs which can power the Somfi® motor. Solar batteries are mounted on the patio covers roof in a discreet location so you'll never see it.
Equinox® adjustable roofs gutter system
Indeed, rainfall has to be routed away from the patio cover. Equinox louvered roofs achieve this by adding an integrated high-volume hidden gutter system within the louvers. For the most part, these gutters manage the rainfall run-off and are installed along the perimeter of the cover. Water hits the louver blades, runs into the gutter, and subsequently onto the ground or into yard drains.
As mentioned, the gutter system can be routed to dump into your existing yard drains if present. That way, the water from your cover can be safely diverted off of your property totally. Because the gutters are integrated into the patio cover, you won't even see them.

---
Back to top of page
---
Equinox® Warranty
Paint is a big part of what makes the Equinox® a great patio cover. Protected by a thick coat of heat applied "
Powdercoat
", it's guaranteed to last for years. In fact, the warranty for the Equinox adjustable patio cover is 20 long years. Powder coat paint is an application where the paint is actually a powder and goes on dry. Then, the paint is baked inside an oven for durability. The Equinox system comes in 5 standard colors, however, custom colors are available with a 10-12 week lead time.
Equinox® Color choices
---
Back to top of page
---
How much is an Equinox® Louvered Roof Patio Cover
Of course, the question is always how much? How much does the Equinox® louvered patio cover cost? The Equinox® patio cover costs between $150 and $175 per square foot. But, it can cost up to $200 per square foot depending on the installation requirements. Footings, engineering requirements, permitting fees, or other circumstances can attribute to a higher per-square-foot cost.
Furthermore, the buyer has to take into consideration contractor fees. Without a doubt, all contractors are not the same in quality, experience, or fees. Therefore, the price you get for your Equinox® in Los Angeles may not be the same as in say, Santa Clarita or Orange County.

---
Back to top of page
---
Equinox® louvered Roof Images
---
B
How Did We Grade them?
---
---
Our Opinion of Equinox
---
My Personal Opinion
We have been an Omnimax dealer for quite some time now. And like most manufacturers there are issues with production and the like. That said, of all the Equinox louvered systems we've installed not one has ever arrived damaged, defective, missing parts or otherwise unsafe to install. The system although somewhat outdated esthetically, is one of the most durable and time-tested Louvered roof systems on the market. we just wish they would update their product. Would I recommend Equinox to my clients? Absolutely. Is it the best-looking pergola with the most options? No. Absolutely not.
---
Contact Equinox Louver Patio Cover systems
Call them:
1-800-448-4033
Email them
: https://www.equinoxroof.com/contact/
See them:
https://www.equinoxroof.com
---
Back to top of page
---
Ceda-Alum…The Affordable Motorized Pergola
Lets face it, in the year 2023 things are not getting any less expensive. In fact, it seems as if prices go up on a daily basis. As a consumer like most of you reading this we too look for the best bang-for-the-buck when it comes to big ticket items.
Louvered pergolas are not a necessity. Really, louvered roof smart patios are more or less a luxury. That being said, when choosing between these types of automatic roof systems, most of you fall into two categories.
You want the best of material, components, color choices, electrical features, smart phone capable and overall esthetics.
On the other hand, there are those of you who want reliability and functionality. Not that you wouldn't mind those other bells and whistles, but really, you just want a system to open and close, maybe with a ceiling fan or lights. Colors… not such a huge deal. Phone app, really you can live without it.
Well, to be perfectly honest, this manufacturer is not geared towards the "A" category. Ceda_Alum is geared more for the "B" people.

---
Who is Ceda-Alum?
Ceda-Alum is a smaller northern California based patio cover manufacturer. Having been around for over 20 years designing and building patio cover systems, sunrooms, louvered roof systems, and pergolas they know a thing of two for sure.
Most other manufacturers of aluminum pergola systems are somewhat large and concentrate on multiple different products whereas these guys just focus on one thing. Aluminum pergolas and sunrooms.
For us, having been in the business for quite some time, we get approached by many manufacturers to sell their product. I have to admit, once I got past the name, (not that it's terrible, just different for a louvered pergola product) I was able to meet with the local sales guy who introduced me to a product that was beautiful, reliable and functional.
How much is the Ceda-Alum Louvered roof patio cover?
So while most of you looking at a louvered patio cover system intend on paying up to $150 per square foot, you'll be happily surprised to find out that this system is significantly less expensive. In fact, the Ceda-Alum Louvered roof pergola costs about half of the larger companies like Struxure, Azenco or Apollo.
More About The Ceda-Alum Louvered Roof System
Just about every single Louvered roof pergola manufacturer builds an aluminum, fully extruded system. In other words, unlike alumawood who roll-forms their material, these manufacturers extruded their aluminum for an extremely durable and strong pergola system.
Ceda-Alum Louvered roof smart pergolas are significantly less expensive as previously mentioned. How do they achieve this you ask? Well, they utilize both roll formed aluminum pieces and extruded aluminum parts. Specifically, the louvers and gutter system are both extruded and the frame is made of the roll-formed aluminum parts.
Roll-formed aluminum is a much thinner material which costs less than its counterpart the extruded material. Furthermore, the extrusion process itself is far more expensive compared to roll-formed aluminum.
Ceda-Alum extruded material is Powder Coated whereas the roll-formed frame material is painted.
Ceda-Alum Images
Features of the Ceda-Alum Louvered Roof Patio Cover
While most of the louvered roof pergola manufacturers in Los Angeles come complete with lights, smartphone apps, heaters and the like, the Ceda-Alum is a bare-bones pergola system.

---
This is to say, lights, although possible, are not standard nor are heaters or rain sensors. However, the smart phone App used to open the louvered roof pergola is not available for this system. Just a remote control.
Ceda-Alum Gutter
The 5" gutter which wraps the entire pergola allows water to freely drain from the system and onto the ground as one would expect. This is standard.
Ceda-Alum Louver
The louver itself is a 6.5" curved louver design designed to shed water. The louver is made of fully extruded aluminum and can span up to 12 feet in width. The Louver comes in 2 colors white and Ivory.

Ceda-Alum Structure
The Frame of the Ceda-Alum is designed to withstand wind loads up to 110 miles-per-hour. However, unlike the other Louvered smart patio systems, Ceda-Alum is not a fully extruded aluminum system.
Is the Ceda-Alum less structurally sound than the others?
Ceda Alum is engineered in the state of California and designed to withstand the loads from rain, snow, wind and earthquakes. The frame is made of 3×8 beams and 3×8 posts and has a roll-formed outer sheathing. Inside the posts and beams are steel inserts. These inserts give structural stability to the overall patio unit. Allowing it to span up to 12 feet between posts.
Having a roll-formed post and beam system as opposed to a fully aluminum extruded system is where you save the big bucks.
---
What's the Biggest Differences in the Ceda-Alum Compared To Others?
Aside from the aesthetics of the systems and the fact that you can't upgrade the Ceda-Alum like you can the other Louvered patio cover systems like Equinox, Outdoor elements, Struxure, and the like…. they still all function the same. All of them open… all of them close. Unless it is the Outdoor Element cover at my house. It rarely ever opens or closes. But that's another story.

---
We know that the framework of the Ceda-Alum is roll-formed just like the Alumawood patio cover system. In contrast, the larger louver manufacturers frame their unit out of extruded aluminum. But it does come with a price.
Some of the other larger differences are the fact that the Ceda-Alum doesn't possess all the cool bells and whistles such as lights, wind sensors, rain sensors, or phone apps.
---
Back to top of page
Ceda-Alum louvered patio installation
Much like the other louvered roof pergolas and patios, the Luminox automatic roof system installs in a similar fashion. These covers like all other types of patio systems share the same components. Collectively they have beams, rafters, gutters, posts, louvers, motors, and electrical. Prior to the installation of these systems, there may or may not be footings as so many are installed on existing cement slabs.
Nevertheless, louvered roofs are typically built on the ground first and then lifted into place and secured. The outer perimeter beams are secured, the gutters installed… It's lifted and secured. Electrical is run both externally on the building (to get to the cover) and also within the cover itself. Once the cover is in place the components are all connected together.

---
Are Ceda-Alum Louvered patio covers available in a DIY kit?
At the present moment, the Ceda-Alum Louvered pergolas are not sold as DIY kits.

---
What's the warranty like
The Luminox Shade system is covered by a 15/5-year Limited Lifetime Warranty.
15-year limited lifetime warranty on louvers and all support components (beams, gutters, and posts)
5-year warranty on electronic & power components warranty from date of installation
1-year warranty on batteries from date of installation
---
---
How many different colors are available for the Ceda-Alum system
The Ceda-Alum louvered patio cover system is available in up to 9 different color combinations. That said, however, there are limitations. Although there are a bunch of color options with the Ceda-Alum, the louvers are only available in 2 color options, white and sandstone. Because the frame is Alumawood, there are up to 8 different color options to choose from.
Back to top of page
CEDA-ALUM LOUVER FRAME COLORS
---
CEDA-ALUM LOUVER COLORS
---
A+
How Did We Grade them?
---
---
Our Opinion of Ceda-Alum
---
My Personal Opinion
So having installed over 20 of these systems I have to say that I'm pleasantly surprised that this Louvered Pergola is as nice as it is. I mean it's half the cost of the other guy so let's be honest, cheap is not always better. When the salesperson came to our facility I was skeptical as to how nice this system may actually be. That said, I can't say enough positive things about this product and its manufacture. I mean the motor is extremely quiet, and the remote although basic is very reliable and easy to use. The color choices are many and the warranty is fantastic. Customer service is exactly what it should be. Helpful, reliable, and service driven. Some other Louver manufacturers should take note (OE). Would I recommend this product? Absolutely without hesitation. Even though it lacks bells and whistles, you're not paying for that anyhow. You are paying for a basic Louvered pergola and for the money, there is nothing nicer on the market. Nothing.
---
Contact us for The Ceda-Alum
Call them: tel:+1916-929-2717
Email them: https://patiocovered.com/contact-us/
See them:

---
Back to top of page

---

Solara louvered patio covers
Solara is another company in the US that manufactures louvered patio covers. What makes these guys a little different is that they are not so much a cookie-cutter louver manufacturers. Their patio covers are all custom-made one at a time. Of course, keeping such a close watch on their product helps with quality and finish I'm sure. Nevertheless, the custom is always still custom.
---
Back to top of page
---
Solara's two lines of Louvered adjustable patio covers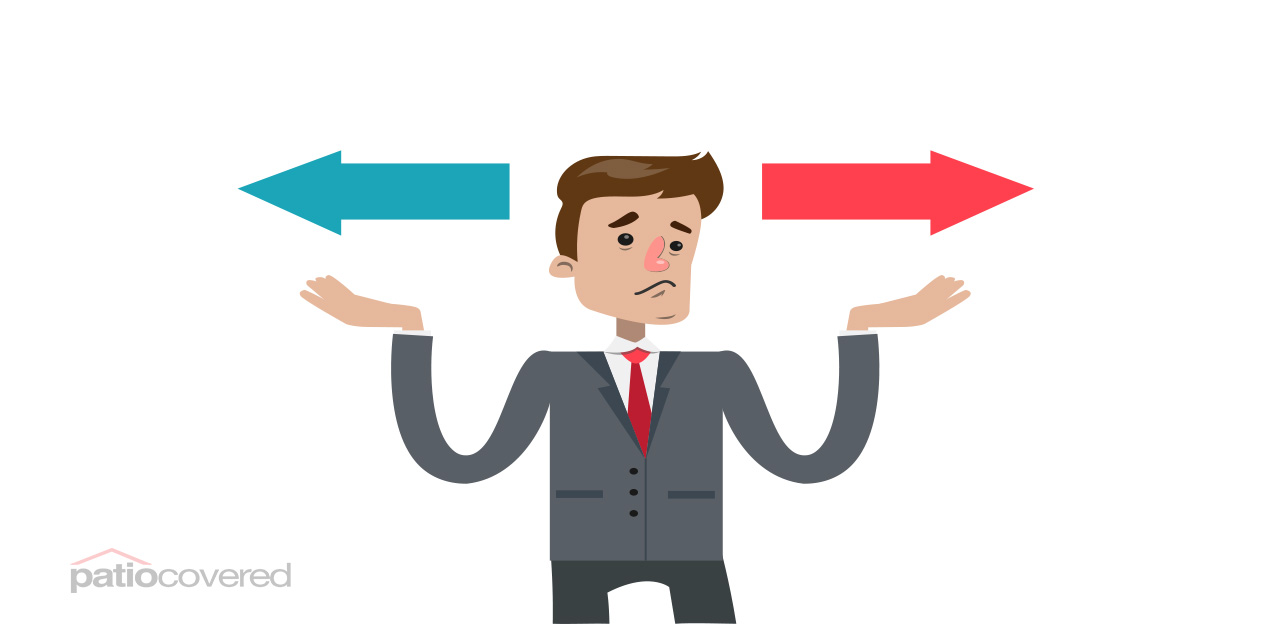 Solara patio cover systems are in a class all their own by offering both types of covers in two flavors. Roll-formed and extruded. In case you weren't familiar with the two here's a quick louvered lesson.
---
Back to top of page
---
Roll-formed Aluminum Louvers
For starters, Solara is the only manufacturer to sell roll-form louvered roof systems. As a company that only sells patio covers in Los Angeles, we're continually faced with engineering challenges. The roll-formed louvered patio covers really help with this.
Solaras Roll-formed Aluminum Louvers are in fact sturdy
Despite the fact that roll-forming is considered less structurally sturdy by many (of course, it is). Still, these Solara adjustable patio cover systems are able to withstand up to 30 pounds of snow load per sq ft and a 150 mile per hour wind. For many of our Los Angeles applications, this exceeds our minimum requirements.
How much are the Roll-formed Aluminum Louvers by Solara
The approximate cost per square foot for a Roll-formed Solara patio cover is $25.00. Compared to extruded, it's obvious that the reduction in material contributes to these savings. Obviously, the less material one product has over another, 70% less, it simply means it will cost less. And it does. However, according to the Solara website, it's about 40-70% less than its extruded louvered roofed counterpart.
When we compared the two same patio covers, one extruded and the other Roll-formed, we only noticed a 22% difference. Regardless, it's still savings. Perhaps the Solara company was comparing their roll-formed adjustable system to other manufacturers' extruded. Whatever the case may be, one thing is for certain…Seeing that the lesser expensive option is so affordable, as a homeowner who is trying to choose between solid wood or Alumawood roofed cover or lattice, you can now get both in one product.

---
Back to top of page
---
Solara Roll-Formed Louver Colors
---
Back to top of page
---
FAQs | Solara Roll-Formed
---
Back to top of page
---
Solara patio cover after a storm
Engineering Links for Solara Patio Covers
Solara Warranty | (From their website)
You shouldn't buy anything nowadays without a warranty. Patio covers are no different. Whether it's one year or one day, for many consumers the warranty is insurance. We all know how important insurance is. Most of the aluminum louvered patio cover companies have some type of warranty with their system. With so many moving parts, it just makes sense.
The Solara warranty like so many others is a limited warranty. this means outside of normal wear and tear caused by time itself, they'll stand behind their product.
The Solara Smart Shading System (the "System") is designed to be free from defects in material and to operate properly under conditions of normal wear, subject to the terms and conditions on this warranty. SOLARA ADJUSTABLE PATIO COVER LLC ("Solara') is pleased to provide you with the following warranties:Solara Company
Lifetime Warranty
– the posts, support beams, and perforated beams that are supplied by Solara are warranted for lifetime.
10 years limited warranty – the louvers are warranted for a period of ten (10) years from the date of completed installation of the System against defects that affect their operation. Please note that this warranty may be voided if you fail to keep the Louvre troughs clean from dirt and debris (leaves, rocks, branches, etc.).
15 years limited warranty – the manual opening system, pins, brackets, flashing, shafts, springs, and fiberglass components are warranted for fifteen (15) years from the date of completed installation of the System. This warranty may be voided if you fail to operate the manual opening system to the full opening at least twice a month.
15 years limited warranty – the motor, motherboard, transformer, and remote control are warranted for five (5) years from the date of the completed installation, and then 10% per year prorated until the 15th year.
Click HERE for a link to their warranty
Solara Extruded Aluminum Louvers
As previously mentioned, the Solara company appears to have thought of everything. Indeed, not only do they produce a cost-effective patio cover in a rolled-formed material. In the same way, they produce a heavy-gauge extruded version as well.
Extruded aluminum louvered patio covers are much heavier. Therefore, they can be made for such applications as commercial projects or high-end residential. Many times, an extruded option is necessary when engineering dictates the minimum and or maximum dimensions. Let's now take a look at the Solara extruded patio cover system.
Solara Commercial Patio Covers
For up to 25 years it seems Solara has been supplying patio covers to multiple different types of commercial applications. On their website, they provide a list of reasons why their patio cover is just a darn good idea. So here they are…
More sitting area outdoors
Of all louver patio cover manufacturers, Solara is the most affordable (their website)
Can be installed into any substructure like wood or steel or cement
6 Colors which come standard and 1000 custom color options
Maintenance is easy
Can be designed into almost any shape
Manual or motorized
They claim to have the best warranty on the market
You can opt for lighting or heating systems
They manufacture the longest louver at 23 feet long
Solara is the only company that offers roll-formed and extruded louvered patio cover roof systems
Made in the USA for over 25 years
---
Back to top of page
---
A few facts about the Solara Extruded Louver Roof System
With standard "generic engineering, the Solara Extruded Louver Roof System can withstand a 30 PSF snow load. This translates into an 18,000-pound maximum for the average 20′ x 30′ patio cover design. So you people who want to build this cover in Colorado, be my guest.
The Solara extruded louver design is the thickest on the market. Coming in at a massive 1.9mm thickness, it barely fits through a doorway. Sort of. Additionally, they have a vinyl seal which is helpful in sealing the entire system from the elements. This seal is proprietary to Solara.
As mentioned previously, their louver blades can stretch up to 23 feet in length. I have to admit, that's absolutely the longest that I've heard of. Indeed, the biggest difference between the roll-formed and extruded really is the spans. The extruded patio covers can span up to 40% more… or longer.
Let's say you live in Arizona and you go out for the evening. Let's also suppose there's a monster monsoon headed your way and you totally forgot to close the louvers. Have no fear… these bad boy louvers have been rated for winds as strong as 150 miles per hour. So no need to fret. Go ahead… sit back and have that cheesecake. Your cover will still be there when you get home.
Solara offers a DIY patio cover kit
Calling all DIY-ers…finally, someone makes a louvered patio cover kit that the average individual can install. Or at least try. Solara sells a louvered patio cover kit that is designed for the average person with general to minimal construction knowledge. We encourage you to visit their site
here
, for more information regarding Aluminum Louvered patio cover kits.
Solara Images
How much does the Solara Roll-formed adjustable patio cover cost?
The Solara Roll-formed adjustable patio cover system costs around $35.80 per square foot installed. Of course, that can change depending on the contractor you choose and their overhead. To get this figure we figured a 300 sq patio cover. Although its $1400 for shipping, still, this is a pretty darn good deal for a louvered system installed. ( Optional: $740 for two remotes)
How much do the Solara extruded adjustable patio covers cost?
We found that the Solara extruded adjustable patio cover costs around $42.94 per square foot installed. That is, using the same 300 square foot project example. In the same way as the roll-formed… the price is subject to contractor overhead. ( Optional: $740 for two remotes)
Make sure you factor in around $1400 for shipping for either patio cover system.

---
Back to top of page
---
---
B+
How Did We Grade them?
---
---
Our Opinion of Solara
---
My Personal Opinion
Having installed these louvered roof systems I am happy to say not only are they extremely affordable, they look and operate fantastic. We have not yet encountered any issues with these systems as of yet. They operate flawlessly and seem to have faired extremely well with some of the extreme weather conditions some of our installed patio covers have endured.My only displeasure with this system is that the louvers only span around 4 feet without having go have a support under the louver like a rafter of sorts.Other than that, its a very nice system. I give them a B+.
---
Contact Solara louver roof system
Call them:
602-388-8429
Email them
: sales@patiocover.us
See them:
https://www.patiocover.us
---
Back to top of page
---
Apollo louvered patio covers
Unlike some of the other manufacturers, the Apollo Louvered roof system is built here in the United States. The Apollo patio cover system is constructed in Sacramento California by a team of individuals consumed with the outdoor living industry for over 25 years. Apollo adjustable roof systems come standard with state-of-the-art controls, high-quality parts and an unwavering warranty for your protection.
Examples of Apollo patio cover images
Quick Stats for The Apollo patio cover
COATINGS
The Apollo patio cover is protected using an electrostatically applied polymer enamel, then oven-baked at 400°.
LOUVER MATERIAL
Apollo uses the highest strength aluminum. 6063-T6 Aluminum.
Post and beams are extruded
Standard post sizes are 4×4 and 6×6.
Beams come in two sizes; 2×8 and 2×10. Additional beams are, however, available
LOADING
Wind Loading:180 mph.
Snow loading 60 lb

---
Back to top of page
---
---
Apollo Color options
---
Back to top of page
---
Apollo warranty
---
Apollo Opening Roof System has a warranty they refer to as the 15/5 warranty. It's good for both residential and commercial patio cover installations. It covers any defects in materials and finishes for up to 15 years. Electrical components are covered for up to 5 years.
15-year warranty – Apollo offers a strong 15-year warranty against any defects within their product. That is defects within the finishes and materials.
5-year warranty – Along with the 15-year warranty on finishes and materials they offer an additional 5-year warranty on the electrical components within their louvered system.

---
Back to top of page
---
Apollo patio cover brochure
---
---
A
How Did We Grade them?
---
---
Our Opinion of Apollo
---
My Personal Opinion
A few years ago we connected with Apollo to become a dealer for them. At the time there weren't too many Louvered Patio cover dealers to work with and their system seemed to be competitive with Struxure and the like. After a brief relationship, we found that the communication with the design and sales team was top-notch. Once installed, the product was flawless in appearance and functionality. We, unfortunately, chose not to continue with Apollo only because of our distance apart, nothing more. Short of that, I'd recommend this product to anyone looking to purchase a louvered pergola and in fact, after experiencing their competitors firsthand, with the exception of Renson, they would be my number one choice for a smart patio.
---
Back to top of page
---
Contact Apollo Adjustable Patio Cover System
Apollo Opening Roof System
Made In The USA
Office: 1-844-931-2281

---
Back to top of page
---
Struxure louvered patio covers
---
When Architect and designer Scott Selzer founded Struxure in 2011 he had one goal in mind. That being, designing a better outdoor living experience for his clients. At the same time, he was also busing with life as a grade-school teacher and contractor. At the same time.
So he set out to design a patio cover that opens and closes and one that the client could control all by themselves. Thus, Struxure was born. Today, Struxture is one of the leading Louver patio cover companies in the United States and beyond.
---
Struxure Automatic patio cover products
The Struxure company offers three levels or models of their patio covers. The Pivot6, Pan 6, and the Pan 6 slide. Each of these systems maintains its flawless, attention to detail design, and appearance. Homeowners now have not one option when it comes to designing their outdoor living space, but three.
Pivot 6
Struxures Pivot 6 is their flagship product. In fact, its the product by which all of their other products derive. Moreover, its also the product that most of their homeowners choose. With louvers that rotate a full 170 degrees, the Pivot 6 Louvered patio cover system allows the user the option of having full-sun, or partial, or none at all.
For design ideas, click here for their visualizer feature
Pivot 6 Slide
What has the ability to rotate and slide at the same time? Struxure calls it the Pivot 6 Slide. So what exactly is a Pivot 6 Slide? In short, its a louvered roofed patio cover that also slides open like a sunroof. Thus allowing the user the option of having a louvered roof or just plain open sky. Perfect for homeowners or businesses alike.
Click here for their visualizer feature
Pan 6
There are also times when the user may not wish to have a louver, lattice, or slide. In this case, there is a pan or solid roof option. For example, some areas of the cover might not lend themselves to having a louver. Therefore, a solid section may be necessary.
For the pan 6, click here for their visualizer feature

---
Back to top of page
---
Struxure louvered patio covers
So what are the sizes of the struxure louvered patio cover systems materials? Here we have a list of the various dimensional material and options with the Struxure system.
2×8 or 2×10 Frame
5-1/2- or 7-1/2-Inch Gutter
4″, 6″ or 8″ Inch Posts
Unique Tongue And Groove Design
6 Standard Colors
Thousands of Custom Colors & Woodgrain Options
Integrated 360 Degree Gutter System
Numerous Options and Accessories
Custom Designed to Suit Your Space
---
Back to top of page
---
It's worth noting that the price for a Struxure louvered patio cover may not include the installation as the installation is often separate from the material bid you may receive.patiocovered
Mission Control
While we don't have a brand of motor used by Struxure to provide, we do, however, have their control system. Struxure chooses to use the Somfi system much like many of the other Louver patio cover manufacturers. Tried and tested, Somfi leads the industry in user experience and exceptionalism. What are some of the features?
Optional MyLink™
The Optional MyLink™ allows the user complete control over their Struxure with a simple smart device. The MyLink™ component is the integration source for a variety of control options compatible with the use of their system.
Wind Sensors
Depending on where the cover is installed, winds might get a little crazy. In this case, the wind sensor will capture the wind speed and automatically close the louvered roof when they exceed 60 MPH.
Rain Sensors
Although it doesn't rain much here in Los Angeles, it can creep up on you on occasion. For this reason, Struxure includes a rain sensor. Of course, as you can imagine, its job is to close your louvers at the first sign of rain.
Wireless Wall Switch
On the other hand, if you choose not to use their remote control, they also have a handy wall switch that can be installed anywhere. No wiring needed.
Remote Control
Speaking of remote controls… these guys have a remote control that is actually water-resistant. Just in case you leave it outside the covered area during rain.

---
Back to top of page
---
Struxure Gallery
Struxure Color Selection
---
Back to top of page
---
Struxure Warranty
Since warranties are basically considered a necessity, everyone has them. Struxure's warranties are 5, 10, and 15 years respectively. So let's start from the beginning.
When it comes to protecting the power components like control panels, motors, solar parts, etc… they offer a 5-year warranty from the date of installation.
Likewise, they offer a decent warranty on the manual parts such as the manually operated or movable parts.
In addition to these warranties, there's a 15-year warranty. This Struxure warranty covers the supporting components like the posts, louvers, and beams.
StruXure Outdoor warrants the product against defects in materials as follows.
Lastly, we have the big dog of warranties. The lifetime warranty against any manufacturing defects.
How Much is a Struxure louvered patio cover?
Be prepared to pay up to $150 per square foot for the Struxure louvered patio cover in Los Angeles and surrounding counties. It's worth noting that the price for a Struxure louvered patio cover may not include the installation as the installation is often separate from the material bid you may receive.
Struxure Contact Louver patio cover company
---
---
C+
How Did We Grade them?
---
---
Our Opinion of Struxure
---
My Personal Opinion
My experience with structure is somewhat limited. To be perfectly honest and with complete disclosure in mind, I have to admit I've never installed their system. My experience and opinion is primarily based on the few times we did interact with Struxure and, seeing first-hand their product. It started for us when we were interested and inquired on how to become a dealer for them. There is no way to sugar coat this other than to say we were treated like total crap… The manner in which we were dismissed and finally spoken to on the phone was nothing short of complete unprofessionalism. So, we obviously moved on. But since then, we've bid against and worked with clients and seen first hand the product.
As for the product itself, I have to say its very, very nice. They are extremely innovative in coming up with new and cool options for their product. I dig that.
The clients I've personally dealt with who have owned their system had few complaints and the complaints they did have were in my opinion, not that significant. One of the things that was brought to our attention was that during the bidding process, they would provide a material estimate and a separate installation estimate. We thought that was super weird. In fact, many of the clients who we bid against who also received a Struxrue bid feel that was weird as well. I'm not sure if that was just Los Angeles or throughout their company policy, but probably something you might want to look into if you are thinking about these guys. Would I buy this product if I was looking for a smart patio? Sure… I think its tried and tested and absolutely a decent product. In my opinion, it's nicer than Outdoor Elements which is likely their main competitor I think.
---
Call them:
866-381-2770
Email them
: https://struxure.com/contact-us/
See them:
https://struxure.com/
---
Back to top of page
---
---
Back to top of page
---