Reading Time:
9
minutes
Luminox louvered roof patio cover
In the year 2021, there are just as many different styles of patio covers as there are aluminum patio cover manufacturers. Patio covers in general are built to occupy your personalized outdoor living space, provide shade, and create additional space for entertaining, relaxing, or just hanging with friends.
Patio covers in general don't usually come with too many features. I mean, there is a frame that makes up the framing structure, there are posts, beams, rafters, a roofing system, a gutter system, lattice shade bars, aluminum louvers, etc... that is unless it's a louvered roof.
Luminox is the affordable adjustable roof system. What makes the Luminox motorized patio cover system (all rights reserved) so affordable? Well, for starters, the system incorporates a roll-formed patio cover framework with an Extruded aluminum louvered body and gutter system. Its lacks many of the standard features that you'd find with some of the other brands, but this is what makes the Luminox an affordable louvered roof patio cover.
 Luminox Louvers are affordable
What you get is a stripped-down version of the more expensive louvered roof systems out there. But what you do get is functionality. It had louvers that are actually extruded like the equinox louvered roof systems that opens and closes via remote. Basic but still, a beautiful system and very nice functionally.
Motorized roof systems options
The louvered roof system offers a multitude of options for your home not found in traditional patio cover systems. Items such as shade control, the touch of a button louver controls for instant shade, rain, and wind sensors when mother nature decides to let loose. These two sensors automatically close the louvers in the event you are out of town or can't get to the cover in time to close it, saving valuables stored underneath.
Differences in louver Manufacturers
Much like its big brother, the Equinox louvered roof systems (all rights reserved), or even the Apollo patio covers or Solara adjustable roof systems or louvered roof systems (all rights reserved). Both carry fully extruded aluminum louvers or blades, extruded aluminum center beam, posts, and a gutter system. Extruded aluminum offers a much more robust and sturdy cover than when compared to the roll-formed patio covers. As for larger spans between posts, extruded aluminum works the best.
Why a Motorized roof system?
Motorized louvered roof systems allow the homeowner the ability to open and close the louvered patio cover by rotating the blades or louvers. It's the ultimate patio cover system.
At a touch of a button via remote control, this motorized pergola roof system will open and close allowing for full sun, partial sun, or complete shade. Even in the rain, these louvered patio covers possess a completely water-tight roof. Albeit here in Los Angeles, rain isn't our biggest concern.
Still, here in Southern California, I've seen some pretty hard rains. Having a louver system that allows the user to control the environment, and at an affordable price like Luminox, makes it the ultimate in patio covers.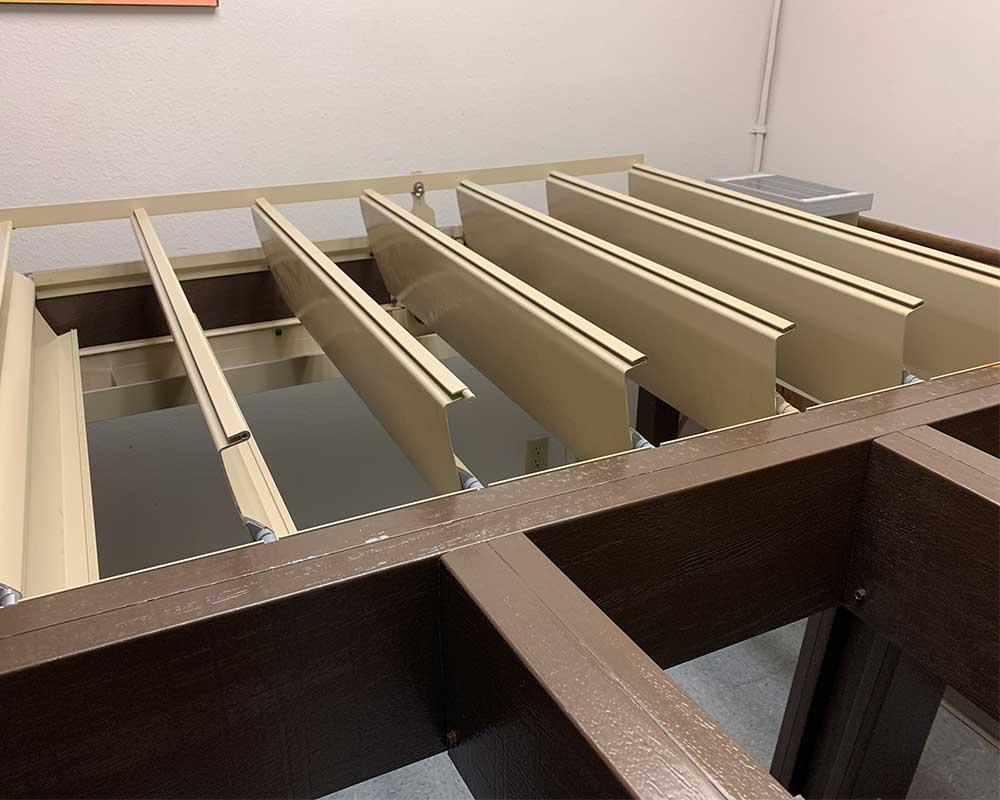 Improve Your Home with Louvers
There's no doubt that adding on to your home with things like patio covers increases the value of the home. Louvered roof systems are in fact one of the most economical ways to increase the value of the home with little investment. These adjustable patio covers are affordable compared to other brands and affordability is the key behind the Luminox louvered roof systems. Another key point is accessibility.
Patiocovered of Santa Clarita (located in Southern California) has exclusive rights to sell the luminox louvered roof patio covers. In other words, you can deal directly with us for the best possible price. At the press of a button, you can be enjoying the benefits of your very own aluminum adjustable patio cover.
How much are equinox louvered roof systems?
The equinox louvered roof systems cost between $70 and $90 per square foot installed.
How much does the Luminox Louvered Patio Cover Cost?
Luminox louvered roof patio cover cost between $50 and $60 per square foot installed.
Louvered roof patio cover and Alumawood
We've covered the benefits of the Luminox when compared to the Equinox louvered roof system but how about when compared to the Alumawood patio cover? Interestingly enough, all three of these manufacturers derive from the same place which is the parent company Amerimax and Omnimax international (all rights reserved). They produce all three lines. Alumawood, equinox louvered roof systems, and Luminox.
Adjustable roofs vs. non adjustable
The biggest benefit to owning an adjustable patio cover or one of the louvered roof systems is that it well opens, and closes. Really, that's the only reason people would make a purchase this substantial. When you have a seating area where you wish to entertain and would like to do this no matter what weird weather patterns mother nature throws your way, then the louvered roofing systems are what you want.
On the other hand, if the prospect of paying as much as $90 per square foot of patio cover doesn't interest you, a fixed shade Alumawood patio cover may be just what you need.
Equinox vs. Luminox Louvered roofs
Equinox Louvered Roof
There are distinct differences between the affordable Luminox and the higher-end line of the Equinox louvered roof system. On its face, however, the two covers appear to look the same. Upon closer evaluation, you'll see that the Equinox louvered roof systems have much larger beams and fewer posts.
Why is this? As we mentioned previously, extruded aluminum is a much stronger material than its roll-formed counterpart thus it's able to span much further between posts. Another difference is the texture or lack thereof. The Equinox Louvered roof system is smooth whereas the Luminox Louvered patio cover has mostly a wood grain appearance embossed into its beams and posts.
Luminox Adjustable roof System
Luminox is the newest line of the adjustable roof system to hit the market. Its primary objective is to provide a quality product, at an affordable price point. Take the Solara adjustable patio cover or the Equinox louvered roof system.
Both of these manufacturers produce a top-of-the-line, high-quality louvered roof system. Not to mention the add ons like special lighting and sensors which come standard with these manufacturers. They function the same. The louvered roof opens up your living space and closes completely rain-tight with the touch of a remote button. Both block the sun and provide shade as well as protect the occupants from adverse weather conditions.
Luminox Louvers at an affordable price
On the other hand, Luminox is also a quality product however, it does lack a few of the special features which come standard on the aforementioned patio cover systems. It also lacks a fully extruded aluminum frame system. It's actually roll-formed which is historically not as sturdy.
Overall, both louvered roof systems open and close via remote control. Both have fully extruded aluminum louver blades and both are top of their class in the patio cover and pergola world. If you're looking for the best of the best for your personal living space, then you'll want to focus on the Equinox louvered or adjustable roof system. If you wish to have a beautiful patio cover that is adjustable when you want it to be at an affordable price then Luminox is for you.
The installation of these systems can be installed directly onto a flat wall, free standing or on that top of a roof. When installed onto a roof, the roof size may dictate additional structural support components. Contact us for additional information.
FRAME COLORS
---
LOUVER COLORS
Alumawood
When the cost of the louvered roof systems is beyond your budget Alumawood is a rock-solid choice for your new patio cover or pergola. Sure the louvered roofs with all their bells and whistles are cool because they open and close on a whim.... but when shade in your outdoor area is all you desire, who needs all the other fluff?
Alumawood produces three lines of patio covers and pergolas.
Insulated or IRP
Laguna (Lattice)
Newport (Non-insulated)
Here in Los Angeles, we sell tons of the Alumawood patio covers. In fact, we outsell most all other dealers who dabble in the aluminum patio cover (and louver system) business. For those of you who are on the defense between these three patio cover systems and need more information, feel free to contact us and we'll be happy to arrange a meeting where we can go over the differences between these systems and the louvered patio cover as well.
Can you walk on an Alumawood patio cover?
We get asked the question, "can you walk on the Alumawood patio covers a lot". The short answer is no. That said, however, the insulated model has structural panels which can hold a person's weight up to a couple of hundred pounds. On the other hand, the Newport and Laguna covers you cannot walk on.
Insulated
Alumawoods flagship patio system is their insulated roof system. Of all the roof systems the Alumawood brand carries, the insulated outsells the others 2:1. Even though Los Angeles doesn't receive much rain in general, still, this area gets pretty hot in the summer. Having a roof system that reflects heat away from the underside, makes a huge difference when you're entertaining underneath. Still, compared to the Luminox louvered roof system, the insulated cover sells around the same price (in some cases) as the Luminox adjustable roofs.
Laguna
When the Equinox Louvered Roof system and the more affordable Luminox louvered patio covers are not within budget, yet you still want to see the sun when sitting under your new pergola, the Alumawood Laguna Lattice patio cover may be exactly what you need. Construction of these covers takes a few days whereas covers like the Equinox louvered roof system or Luminox, the more affordable louvered patio cover can take up to a week.
If the Louvered roof is not within your budget, the Alumawood Laguna lattice roof patio covers are in my opinion the next best thing. The reason is you can still have the benefit of shade, and partial covering. No matter how you slice it, aluminum covers are really the way to go. No matter what weather condition, they do not rot, deteriorate, and will never need to be painted.
Alumawood Newport
As long as we're comparing apples to apples, alumawood Newport patio cover is Alumawood's affordable roofed patio cover system. Of course, to be clear it's not a Luminox affordable louvered roof system, still, it's still Alumawoods most affordable roofed cover. Sure Louvers are a fantastic way to have shade but why not have a fully covered roof for a fraction of the price?
Alumawood's Newport shade cover solution is a cover that has limited options, however. Ceiling fans, lights are options, but things like skylights or televisions are not. Even though the affordable Luminox louvered roof system has a few more bells and whistles than the Alumawood, still they are limited. Compared to the Equinox Louvered Roof System, the Luminox louvered roof system lacks rain and wind sensors as well as the remote phone app feature by Somfy®.
2021 patiocoverkits.com all rights reserved
Frequently Asked Questions