Reading Time:
8
minutes
2022 | How much do louvered pergolas cost?
Louvered roof systems are the latest rage in outdoor living. It's no wonder why they are so popular. With the ability to have it all... 50% sunlight or a fully covered roof, all at the flip of a switch.
If you're in the market for a Louvered roof system and just want to know how much they cost, read on... we'll try to put into perspective the costs of louvered patio covers within the Los Angeles county area in the year 2022. We'll also address some benefits of owning the louvered roof or adjustable roof patio cover.
2022 |Louvered pergola cost in Summary
A Louvered roof cost anywhere from $28 
per square foot
for a roll-formed louvered roof and up to $150 
per square foot
for a much stronger extruded louver roof (
with no options
). Of course these louvered roof systems systems are completely customizable.
A fully loaded louvered roof system will run you about $160.67 per square foot installed. For the most part, the louvered roof system costs range greatly from manufacturer to manufacturer.
Who buys a louvered roof system?
Louvered patio covers for your home
Ever since the lockdown across the United States, we've experienced an unprecedented number of orders for residential automatic louvered roof systems. Why is this?
Well, of course with so many millions of people staying home, it's a safe assumption that people want a nice place to spend time with their families.  Louvered adjustable roof patio covers offer a rain-tight environment to spend that quality time with family and friends.
The cost of the residential adjustable patio is somewhat similar to the commercial unit. Typically, these louvered roof system cost without any upgrades will average about $130.50 per square foot.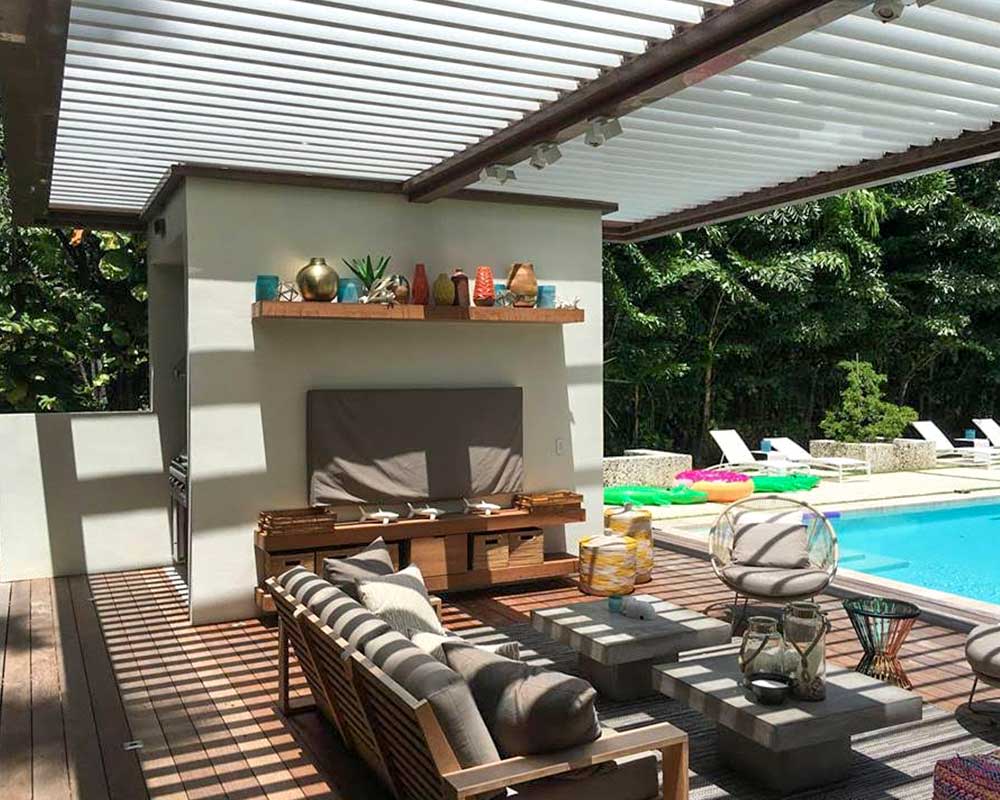 Louvered pergolas for restaurants
Louvered roof systems have been quite the rage within this last year. Perhaps, it's successes are due, mostly in part to the COVID-19 restrictions. Thus creating a need for restaurants throughout the United States, to look elsewhere for alternative eating spaces since everyone must space at least 6 feet apart from one another.
Without question, the louvered roof pergola system has benefits that are immeasurable when it comes to restaurants sustaining business operations or calling it quits. Surely, one can argue that without an adjustable patio, dining in the freezing, rainy, snowy, or cold climates will reduce occupancy and thus reduce a restaurant's profitability.
On the other hand, not having the means to encapsulate your guests while dining is a sure-fire way to cut your profits significantly. Of course, all restaurants have the ability to maintain take-out and delivery. Still, there are some who'd rather brave the elements and dine undercover, with a heater at their favorite eatery... and a louvered roof allows this to happen.
The cost of a commercial louvered roof pergola is priced somewhat differently than a residential unit. Typically, this type of roof system is installed fully loaded with all the trimmings. They usually average about $160.67 per square foot.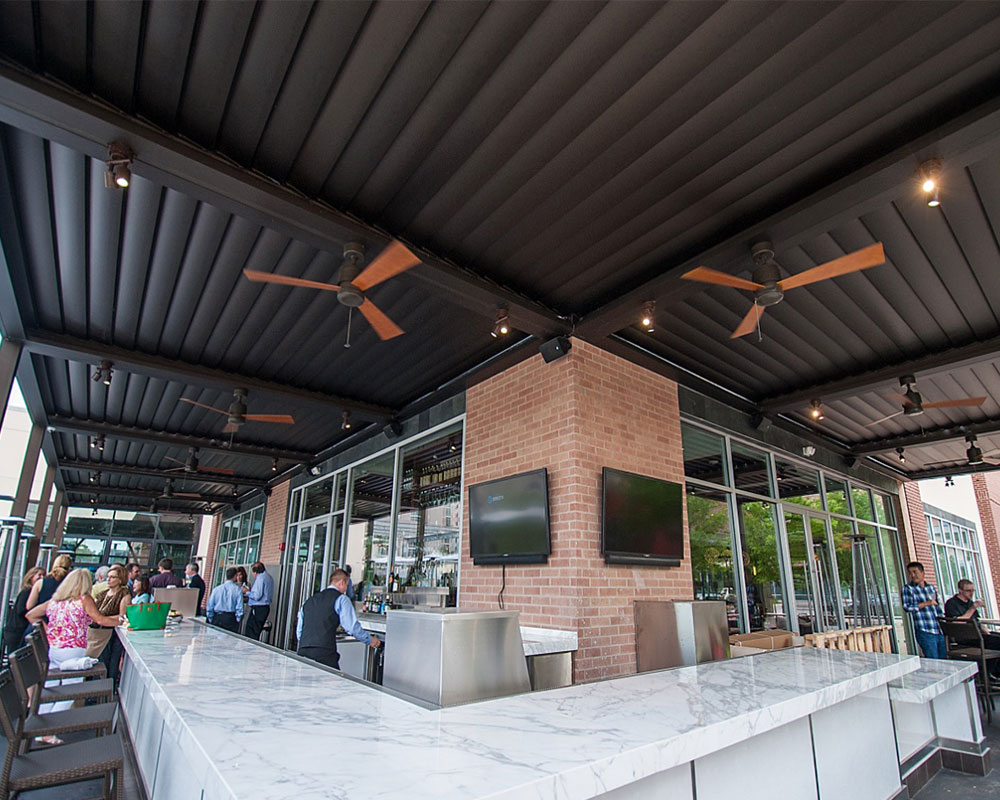 FAQ's about extruded aluminum louvered roof systems
Custom Louvered Pergola Colors
Most all louvered roof systems come with anywhere from 3-6 standard colors.
Not enough for you? Well, there are endless colors to choose from as standard paint choices are endless. Have our staff help you custom color match your custom louvered roof. That's correct. We can have your pergola with louvers custom powder coated to match whatever you need.
Options when considering a louvered Roof System
When considering the purchase of an automatic patio, you may want options to go along with it. Generally, people who purchase louvered roof systems also buy lights or heaters. Lighting is considered a must-have for most buyers. Equally important for many others are heaters and shades. Below we've put together a shortlist of some of the add-ons you can purchase with your new cover.
Where to buy an Equinox Louvered roof in Los Angeles
Our company, patiocovered, offers outdoor living at the touch of a button. This louvered roof system is not affordable, it's a must-have here in LA.
We a full-service pergola and extruded aluminum Louvered roof only construction company located in Los Angeles county.
What Brands of Louvered Roof Systems Do You Carry?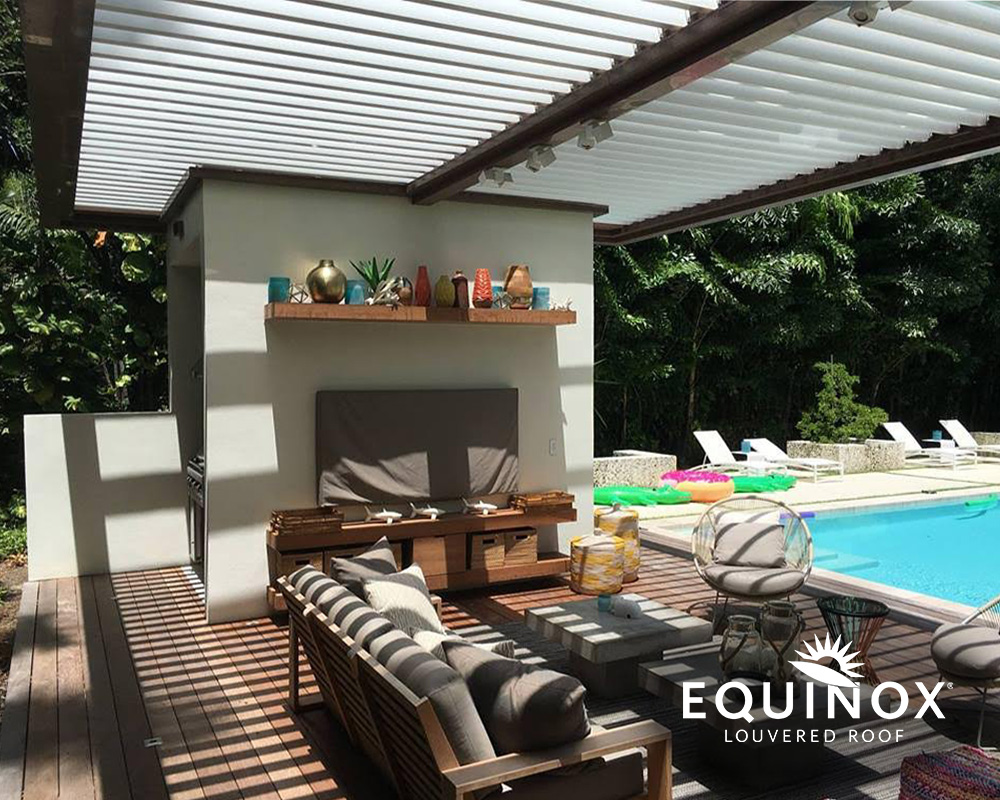 AZENCO Louvered Roof Pergola
The Azenco louvered pergola system is a French-based company with offices in Flordia. Azenco pergolas are one of the only louvered pergola systems which produce a 14" tall outer beam with no visible screws.
With one of the most streamlined designs on the market, the Azenco louvered roof system is quickly becoming our best selling louvered
Equinox Louvered Roof Patio System
When considering American louvered roof systems, the Equinox brand should be at the top of your list of Louvered roof systems. Produced right here in the United States, the Equinox system is one of the oldest and time-tested louvered systems on the market.
What does an Equinox louvered pergola cost? Well, with most al louvered systems they range from $60-$160 per square foot. The equinox falls in somewhere around $120 per square foot installed.
Solara Adjustable Patio Covers
Solara adjustable patio covers are considered by many, as the affordable louvered roof system. It's not that Solara adjustable patio covers are cheap, flimsy, or anything like that...  It's just that the Solara system lacks many of the bells and whistles that come standard on the other louvered roof pergolas.
A louver roof system cost can fluctuate greatly depending on the type of aluminum, and accessories among other factors. Furthermore, the louvered roof system cost also depends on the installation as well. Many of these systems are incredibly difficult to install. On the other hand, some, like Solara are quite easy. thus, a less expensive pergola.
Other types of patio covers
Standard non louvered roof system comes in various types or styles
Lattice Shade-Bars
Lattice pergolas and covers are a system where the roof system cannot be opened nor is it solid. Rather, the cover top is made up of shade strips typically less than 3" x 3' laid perpendicular to the framework. Lattice shade systems allow for just enough sunlight to pass through the structure to be comfortable.
Typically, lattice covers are favored by those who wish to maintain a certain amount of sunshine. Perhaps you have a kitchen or family room which would otherwise be darkened by a fully covered patio. Alumawood produces a phenomenal lattice cover system designed to last a lifetime. In fact, the warranty by Amerimax is second to none. Every Alumawood patio cover comes with a limited lifetime full warranty.
Cost-wise, the Alumawood lattice system is probably one of the most affordable patio covers in the market. Those of you who are stuck on a wooden patio cover should take a look at these covers. Starting as low as $20 per square foot they are hard to beat. Especially when they require no maintenance.
Solid Roofed Covers
Unlike the louvered roof system, solid roofs do not open. When contrasting the lattice system to a solid roofed system it's obvious that both are completely different. Roofed pergola covers can be manufactured with many different materials, not just Alumawood panels.
The possibilities are endless especially when working with wooded covers. Otherwise, the roofing for these types of patios can be made from metal, concrete, clay, or asphalt. Alumawood roofed systems, on the other hand, are made from either foam or aluminum.
The foam roofing is what they call an "insulated panel". These panels are manufactured up to 22' lengths and are a standard, 4 feet wide. Newport systems, on the other hand, have roofing which is considerably different altogether. This particular material is "W" pan shaped panel and possesses no insulating qualities. Either one of these two materials offers a full limited lifetime warranty.
Summary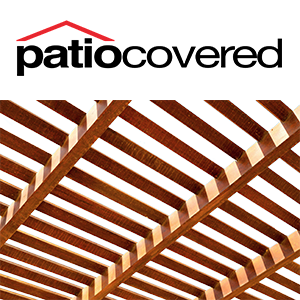 Article Name
How much do louvered Pergolas cost?
Description
Looking for a louvered pergola and want to know how much they cost? This blog will give you a complete picture of the costs involved in purchasing louvered patio covers.
Author
Publisher Name
Publisher Logo