Reading Time:
12
minutes
Ideas For Pergola: 15 Amazing Pergola Ideas For Your Outdoor Space
It's 2023 and Summer is on its way in once again and before you know it, you'll be running for some type of cover to escape the heat.
Adding a pergola is one of the easiest ways to spruce up your outdoor living space. While completely functional, these structures provide a stunning focal point all the while providing necessary shade for the hot summer sun.
A covered pergola is versatile all the while displaying your own personality through shapes and designs matching your outdoor spaces.
Pergola And Your Outdoor Living Space
When designing your outdoor living space, the seating area, among all other things should be one of your more serious concerns when considering your patio design.
With so many little things at your disposal to brighten the living area, like hanging baskets, outdoor rug, paper lanterns, bamboo fencing, train climbing plants, hanging swings, an outdoor fireplace-built fire pit with natural materials, a hot tub, coffee tables, climbing roses, and string lights.
For most people, the outdoor space is utilized for gatherings and entertaining. Other additions such as an outdoor kitchen, a pool house, and yes a pergola together make your backyard a place where you not only gather with friends but make memories that last forever.
Your outdoor design can be achieved via a landscape designer or landscape architect. The pergola design, like the patio area, can also be achieved through a landscape architect.
Poolside Pergola Ideas
The swimming pool is a fantastic addition to any backyard or outdoor space. It really is a focal point, adding the perfect ambiance to anyone's backyard.
Now, adding a swimming poolside pergola to your patio space not only allows occupants to gather underneath and escape the hot summer sun but also a place to gather on cool summer nights. Especially if you have a louvered pergola.
Pergola Vs Patio Covered Pergola
Most people refer to the patio structure as either a pergola or a patio cover. Regardless of which term you choose, the majority of the time they are interchangeable.
In my own opinion, pergolas are generally open roofed like lattice patio covers for fresh air or thatched roof design to escape the sun's rays. Many of these pergolas can either be freestanding structures or pergolas attached to an exterior wall.
Where Do You Buy Pergolas?
So pergolas can be purchased from multiple places like, big-box stores like Home Depot, private local contractors like the Los Angeles-based company, patiocovered, Costco, and even Amazon.
An outdoor structure consisting of wood, plastic, aluminum, or vinyl is easily located especially in a big city like Los Angeles. Within all of these outlets, you can find patio covers that are a freestanding structure all the way to even a tiny pergola.
A wooden pergola or wood pergola is relatively affordable but not when compared to others like a steel pergola. One of the most affordable pergolas is, however, aluminum pergolas or wood pergolas for example a cedar pergola.
Within all of these different stores, you can get all types of patio ideas for your outdoor space or outdoor living space.
What Materials Are Used To Build A Pergola?
We briefly touched on the differences in materials used to build a pergola, but here we'd like to get a little more in-depth on the different types of materials. Pergola designs will in some cases dictate the type of materials used to build your patio cover.
A patio cover with a pitched roof depending on the pergola's roof may be required to be constructed of some type of structurally sound material like a steel pergola for example.
On the other hand, if you have a dining space for outdoor dining, there is a good chance that wood may not be a good choice for patio cover due to the potential for ignition.
A pergola roof would want to either be placed significantly higher than the outdoor dining space or constructed of a non-combustible material like a steel pergola.
So in this case, a retractable canopy may not be a good idea due to the potential for ignition because it's constructed of cloth.
A wooden pergola, aluminum pergola, vinyl, or steel pergola all are very popular and acceptable types of materials to build patio covers and/or pergolas.
Who can build a Pergola?
Just about anyone can build a pergola. In fact, just about anyone can and does build these types of structures as there are DIY kits just about everywhere nowadays. One may just want to possess DIY skills.
That said, however, hiring a qualified building contractor with all the necessary licenses and insurance like patiocovered in Los Angeles is an extremely prudent idea.
Most contractors in Los Angeles have experience in building things like outdoor structures consisting of a kitchen, barbecue, and patio cover.
Building an outdoor living room may be a bit too much to handle for the novice DIY'er on the other hand. Basically, all you need is a pergola idea and you're off to the races.
Do you need permits to build Pergolas in your backyard living space?
So this is an interesting question. The short answer is yes and no. In Los Angeles, you can build a pergola without building permits as long as the entire structure is under 120 square feet with no electrical or plumbing.
In contrast to that, just about everything else requires a building permit. Each building and safety department within individual jurisdictions has its own rules for what they require to get a building permit for your new pergola cover.
Where to install your patio cover or Pergola?
Without having to hire an expensive lifestyle and design group to choose where to put your new pergola, finding a place for the structure is actually pretty easy. The ground beneath the structure will want to be sturdy, however.
Other than that, you can for the most part place your new structure just about anywhere you wish. Some popular areas are places like the pool area, dining area with room for a seating area, someplace that offers sun protection, a place with amazing curb appeal, or just a freestanding structure for your backyard.
Most everyone buildings their new pergola connected to the home. And, these new structures are usually attached to the back of the house specifically. Your outdoor living space is very personal to each and every one of us.
So may like a basic wooden pergola or white pergola, you may want a new European louvered roof cover surrounded by lush greenery like climbing plants or potted plants with really cool string lights.
DIY Pergola Kits
When considering you're new pergola, you will have a choice of buying from a contractor, a store or building it yourself as previously mentioned. Choosing to build a DIY pergola roof system for your backyard is quite an undertaking in and of itself.
One of the first things you'll want to know when building a DIY pergola Structure is where do buy it. There are quite a few locations where you can purchase these kits such as patiocoverkits.com.
There, for example, you can find many different types of pergola kits to choose from all within a price range to fit just about any budget.
Once you finally agree on where to purchase your DIY pergola kit, you will want to at the very least, research the installation procedure. Whether it's from a YouTube video, or in a manual, you will want to know what special tools are needed if any.
Wood pergola structures like a cedar pergola may come with unfinished or raw wood. Kits like Alumawood will likely come completely finished and with everything you need to build the entire structure.
10 Different manufacturers of Pergolas
So here in Los Angeles, there are tons of manufacturers who you can choose to buy pergolas from. Here is a very short list of pergola manufacturers.
Azenco
Alumawood
Duralum
Patiocovered
4K
Eclipse
Solara
Equinox
Apollo
Sundance
Big box vs Costco vs Contractor to buy your pergolas
Of course, buying a prebuilt kit from a place like Home Depot or Costco is single. In contrast, buying from a contractor takes time to order materials, get the materials in stock, and then assemble them.
Places like Costco and Home Depot will offer their pergola units at a discount because you won't have o pay for the installation. With installation likely comes hidden fees like workers comp, fuel charges, and all types of overhead that a contractor must charge to build your pergola.
The only downside to buying from a big box store is that you will become the contractor. Whether you find a person with experience to install your new outdoor structure or you do it yourself.
What are the pros and cons of owning a pergola
Owning a pergola has
14 Different Pergolas For Your Outdoor Spaces
There are so many different types and styles of pergolas on the market how are you to know what is the best one for your outdoor living space? Let's run down a few different types of pergolas and talk about the benefits of some of these types of structures.
1) Trellis Pergola ideas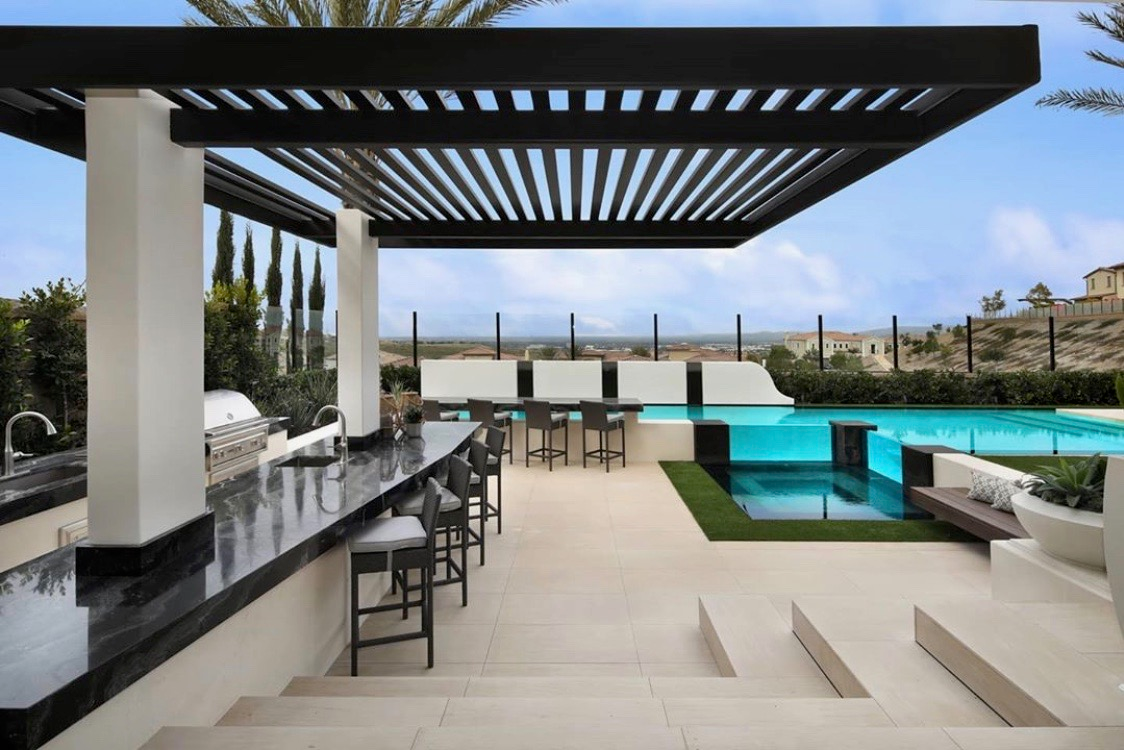 The trellis pergola is one of the more basic types of pergola structures on the market. Usually, these types of pergola have two posts, no main header beam, and lattice strips which make up the pergola roof.
A trellis pergola is an amazing addition to areas like a pool house, or outdoor dining area, and can actually make a great platform for lush greenery or even some climbing plants.
2) Louvered Pergola Ideas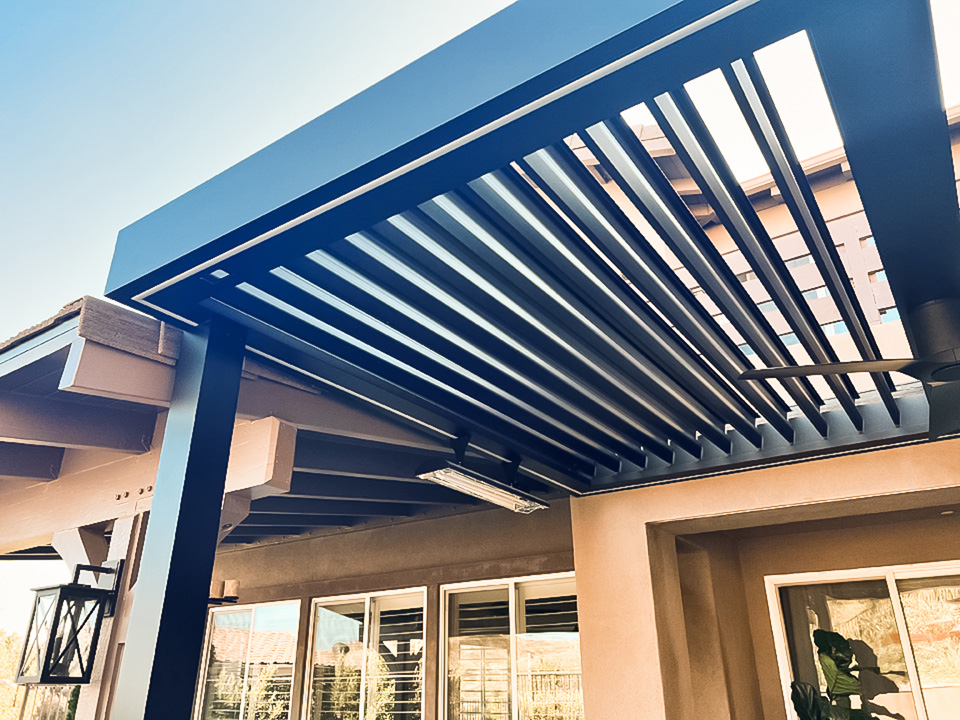 Introducing the Louvered pergola. These louvered systems are the latest craze among all other types of pergolas on the market. For good reason. Not only can you enjoy the outdoor living space for the entire year despite the weather conditions.
Of course, this is achieved by either opening the louvered pergola roof or closing it as needed.
These louvered pergolas are made of extruded aluminum. Without a doubt the most robust of all building materials. The louvered roofs can be upgraded to have heaters, misters, pendant lights, beautiful dappled light, climbing plants, wind sensors, rain sensors, and much more.
Even though these are the nicest of the nice, they do come with a price tag. Louvered patio covers come with a hefty price tag. For the most part, the louvered pergola starts at around $40 per square foot and can go as high as $300 per square foot.
3) Lattice Pergola Ideas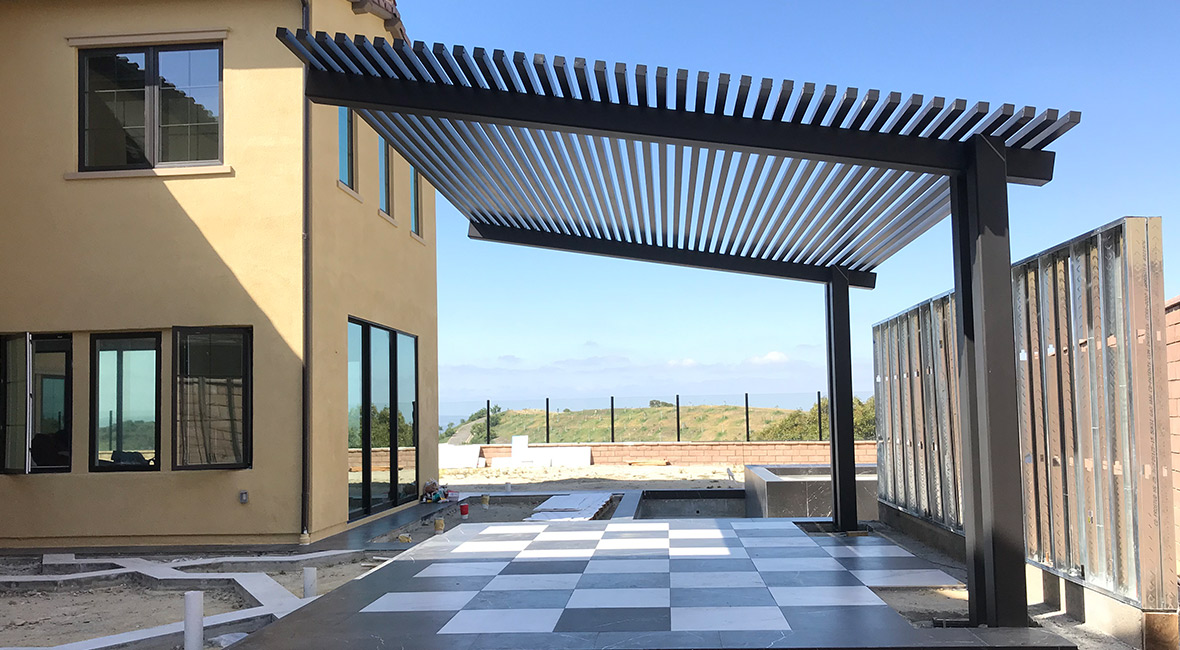 Much like the distant cousin trellis, the lattice pergola also has strips that make up the roof. They look very similar however, the trellis will typically only have two posts and not four in some cases like the lattice system.
This type of pergola can be constructed of wood, steel, aluminum, vinyl, or fiberglass. Likewise, the colors available for these types of covers are many. My favorite is the white pergola.
I wouldn't expect these covers to keep you dry during the rain as the roof is made of strips and spaces usually about the same distance as the lattice strip itself. Typically 50% coverage is normal.
4) Eyebrow Pergola Ideas
For eyebrow pergola ideas it seems as if the internet is a perfect place to discover new styles and ideas. The best way to describe what an eyebrow pergola looks like is a small usually rectangular structure that is placed above doors or Windows to shade the door or window from the sun's rays.
An eyebrow pergola is not usually that large. For the most part, these types of units are about as large as the door or window it protects.
5) Cantilever Pergola Ideas
A cantilever pergola is almost always a freestanding pergola that utilizes only two posts whereas most all other types of pergola, have four or more posts.
In case you weren't aware, the cantilever patio cover is not a common sight. In fact, they are extremely rare mostly because of the work involved in making it structurally sound.
Starting off with the footings… these concrete anchors are usually massive in scale compared to a typical footing dimension. Just like the footings, the posts are equally as massive and have to be in order to hold up a stand-alone covered roof like the cantilevered pergola.
6) 4K Aluminum Pergola Ideas
4K Aluminum is located in Las Vegas Nevada with dealers in Southern California Like patiocovered. The 4K aluminum system is a little different than the alumawood aluminum or Azenco extruded louvered systems you might be used to.
For one, 4K Aluminum pergolas have a very unique appearance. The 4K Brands offer simple yet elegant pergola ideas for the average homeowner.
With lattice units to louvered to cantilevered pergola ideas they have you covered. They also have solid roof panels for those who want a solid roof design. Homeowners can add heaters, lights, and ceiling fans.
In contrast to other pergola systems, the 4K Brand is an extruded unit as opposed to the roll-formed units like the Alumawood or duralum.
7)Alumawood Pergola Ideas
Alumawood has taken the pergola market by storm. A super system that is not only durable it's totally affordable. Alumawood is a roll-formed aluminum pergola that has the appearance of real wood with its wood grain texture.
Equally important is the fact that the Alumawood pergola comes in a Lattice pergola, a non-insulated solid roof design, and an insulated solid roof design.
So customers have a lot to choose from. You can add ceiling fans, heaters, and lights to these pergolas.
8) Insulated Alumawood pergola Ideas
Alumawood offers an insulated solid roofed pergola for those who want a solid roof to escape the rain and the sun's rays. These solid roofs allow the homeowner to have recessed lights and ceiling fans.
At 3″ thick, the Alumawood insulated roof has an R rating of 13 which reduces heat penetration from above. Totally waterproof, the panels lock together and are sealed closed.
The Alumawood insulated system is the most expensive of the three lines of pergolas Alumawood offers.
9) Non-insulated Alumawood Pergola Ideas
Alumawood's non-insulated roofed pergola offers the same solid roof system as the insulated system but at a fraction of the cost. You still get recessed lights, heaters, and ceiling fans.
One of the main differences is that the non-insulated system roof is just that, not insulated so there is no R-value to speak of.
10) Wooden Pergola Ideas
Wood has been the staple by which patios and pergolas have been constructed. With the innovation of other materials such as Aluminum i.e. Alumawood, 4K, Azenco, and others, no longer do people have to build their patios just to sit back and watch them turn into dust.
Wood pergolas have many pros as well as just as many cons associated with their construction. Wood is extremely versatile and can be arranged and constructed in multiple different shapes and sizes.
One of the main drawbacks to using wood as a pergola is the fact that the material has a limited life span, unlike aluminum. In other words, wood patio systems have to be maintained continuously.
11) Poolside Pergola Ideas
When it comes to poolside pergolas ideas, the possibilities are literally endless. Aluminum is a fantastic material to place next to your swimming pool as is steel and even wood. Wood pergolas have the ability to span extremely far when compared to other materials such as aluminum.
The 4K Aluminum cantilevered cover is a fantastic shade structure that will provide the occupants the opportunity of having a great deal of shade, with few posts. Thats a great look for most poolside pergola ideas.
12) Site Preparation for Covered Patio Space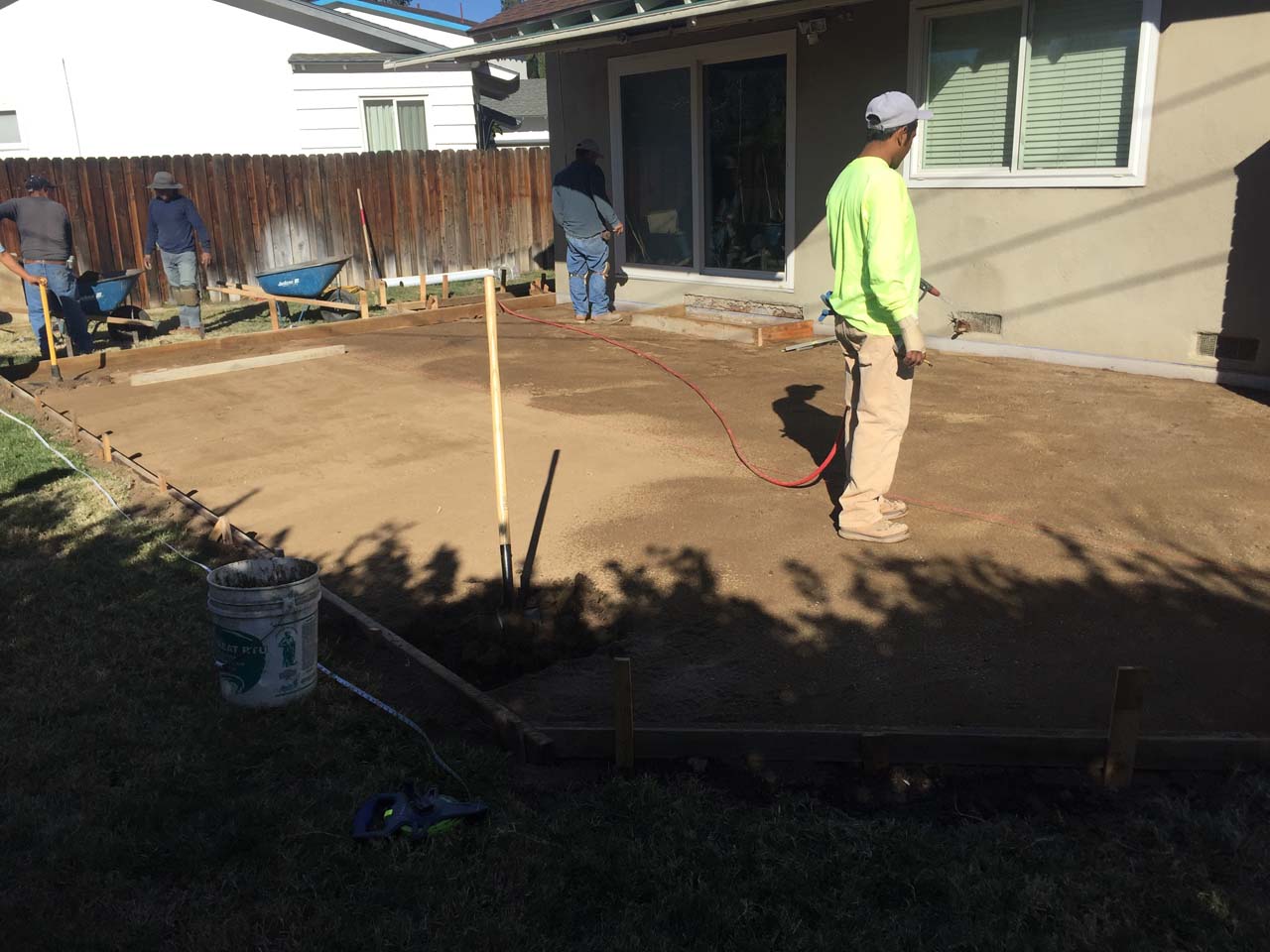 Most patio systems require a fair amount of patio space around the structure to allow for a lot of seating area, dining space, and outdoor living space.
In many cases, footings have to be dug and concrete poured to support the structure. These footings are comprised of a large hole, steel rebar, and cement.
The size of the footing is determined by the structure's engineering specifications.
13) Paint vs. Powdercoat Pergolas
For most pergolas they have to be protected. Whether it's aluminum or wood the material requires some sort of paint. Paint is applied via a machine or by a human. It's usually sprayed out of some type of spray gun apparatus.
On the other hand, powder coat is applied by a person or machine and then backed on inside an oven. Powdercoat is mostly used on metallic pergolas like aluminum or steel.
14) Sail Shades
Sail shade are light fabric coverings typically supported via rope or some steel cable.
The sail shades will typically hang above the outdoor living space a few feet above the ground.
The material is usually a canvas or sunbrella type material which can withstand extreme heat and UV rays.