Reading Time:
5
minutes
Patio covers in Santa Clarita
Santa Clarita, Los Angeles, and Ventura Counties
The Alumawood lattice patio cover comes complete with one or two beams, rafters, and lattice bars. With 8 different colors, you can mix-n-match different pieces. Alumawood products come in three different styles, the Insulated cover, the lattice cover and the non-insulated cover. All of these patio covers are constructed from 100% aluminum and will last a lifetime.
Patiocovered specializes in Alumawood patio covers and pergolas in Santa Clarita. We offer an affordable line of shade structures called Alumawood which offers an alternative to the wood cover while still providing a textured wood grain finish look. For more than 50 years, Amerimax has been an industry leader and has built a solid reputation for reliability, comfort, and style. Furthermore, Alumawood is perfect for those of you who do not have time to deal with the maintenance and repair of wood covers. These structures don't need to be painted as they don't crack, peel warp, or rot. For the most part, the Alumawood structures are strong, safe, and durable while providing shade for you and your guests. We design and manufacture all of our 
aluminum patio covers
 with the maximum panel spans available under current engineering. Additionally, several column options and pan designs are available to meet your needs. Call us for a free patio quote at 661-212-1446. Patio covered is located in Los Angeles zip code. Well, actually Santa Clarita Valley which is 20 minutes north of LA.
Zero Maintenance
Alumawood patio covers are not only termite-proof but they don't fade, and never need painting. The Aluma-Shield paint system with Teflon surface protector reduces corrosion caused by the sun, salt, pollution, or the elements. Not to mention, Alumawood repels dirt, dust, oil, and stains.
Santa Clarita is home to Patiocovered. A local patio cover only construction company.Having build hundreds of patio covers around the Santa Clarita Valley, we know a thing or two about patio covers of all types. In fact, you can choose from a shade bar type or a covered roof structure. Why is the Alumawood structure so strong? It's because they all come pre-engineered prior to their installation.
ALUMAWOOD SHADE STRUCTURES
Alumawood covers are impressively similar to real wood patio covers. Constructed with a heavy header construction richly textured wood with 8 popular design colors. The Alumawood paint includes a durable Aluma-Shield paint system for long-term gloss retention. Fasteners come in matching colors. There are up to four end cut style options for beam and rafter cuts (beveled, corbel, mitered, scallop). Complete with a full limited lifetime warranty *Electrical options are available with our Alumawood covers. Ceiling fans or recessed lighting can be added as upgrade options.
Santa Clarita for Pergolas and Patio covers
Well, to start off there is a significant difference in material costs between wood covers and the Alumawood aluminum patio covers. That said, however, dollar for dollar, wood is much more expensive than Alumawood. The second is labor. Alumawood patio covers in most cases can be installed in just a few days whereas wood covers can take many days to install and finish. With wood covers, in order to comply with local building codes, you always need footings in order to install this system. In contrast, most Alumawood covers only require that the cover be firmly attached to the existing concrete slab when present.
Where can I buy a 4K aluminum pergola?
4K aluminum products are offered right here in LA. in fact, we are one of the largest construction companies who build these pergolas. Of course, we service not just the SCV, but all of LA as well. Originally out of Las Vegas Nevada, the 4K aluminum company products 100% extruded aluminum pergolas. Mostly for new patios, these 4k covers are sleek, stylish, and somewhat contemporary. Available in 4 standard colors and 2 different lattice strip sizes these covers look nothing like their competitor.  Alumawood for example has a wood grain embossed appearance. Whereas the 4K aluminum system is smooth. Finishing off the material is the paint which is a durable powder-coat. Patiocovered.com is an Alumawood dealer, Outdoor Element, and
4K
aluminum dealer. We're located in the Santa Clarita Valley 20 minutes north of Los Angeles city. in order to become an Alumawood dealer, one must be at least a General construction company with all the necessary insurances required such as workers comp and liability. One thing to consider when choosing a patio cover contractor is to ask them to visit one of their jobs. That way you can actually see their product.
FAQs
How much do the Alumawood patio covers cost?
According to patiocoverssimivally.com, "A typical Alumawood patio cover will cost $2,200 to $5,020 while wood, on the other hand, will cost you between $5,507 to $13,500." We tend to agree with these numbers. However, the materials to help build a pergola like beams or steel inserts inside beams, for example, will bump up these numbers significantly. Alumawood patio covers are available in kits as well. These kits are priced somewhat less than other Alumawood covers simply because they don't include installation. In many cases, the patio cover kits are sold by dealers who can offer a more substantial discount.
Can you walk on Alumawood patio covers?
While our guys will walk on the slid insulated patio covers, Amerimax the maker of Alumawood suggests that you NOT walk on their products.
That said, our guys build these covers on a regular and I have to say from the builder's perspective, I wouldn't recommend walking on the lattice or non-insulated. But the insulated on the other hand, well, it's a more durable material capable of handling up to two of our guys walking on these covers.
What colors are available? Thus far, the Alumawood patio cover will come in up to 7 different colorways. That said, however, you can choose to mix-n-match colors throughout these patio covers or pergolas. That is, with the exception of the insulated patio cover, These covers only come in 2 color options. That said, if you choose to purchase the insulated over, you have the option to have the panels in either desert sand or white colors while the framework can be in whatever color you wish (within the 7 standard colors).
Louvered patio cover systems
Of course. We are an Equinox louvered pergola contractor and offer this amazing patio cover system throughout Los Angeles. The louvered patio cover or pergola allows the client freedom to choose whether they want a fully covered patio cover or fully closed. louvered patio cover systems are fully adjustable and can open with the use of an app or remote control. The Equinox louvered patio cover systems are available in up to 6 standard colors and 22 custom colors. And if that wasn't enough, you can choose to have your Louvered pergola made in a custom color.
Call us for more information 661-212-1446
All rights reserved patiocovered | All rights reserved 2021
Get started with a new patio today. Contact us.
Summary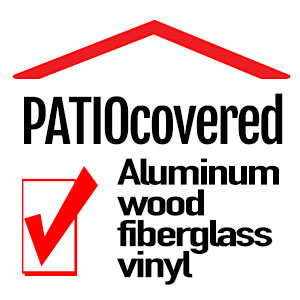 Article Name
Alumawood patio covers in Santa Clarita
Description
Patiocovered is located in Santa Clarita but serves most of Los Angeles. We offer an affordable line of shade structures called Alumawood which offers an alternative to the wood cover while still providing a textured wood grain finish look. For more than 50 years, Amerimax has been an industry leader and has built a solid reputation for reliability, comfort, and style.
Author
Publisher Name
Publisher Logo