Reading Time:
6
minutes
Patio Cover Repairs in Los Angeles
Wood Patio Cover Repairs
In the event that your patio cover ever becomes damaged, have no fear there are solutions. Patiocovered.com specializes in patio cover repair of all types. Our team of specialists are familiar with all types of patio covers because after all, it's all we do throughout the Los Angeles zip code.
For the most part, patio cover damage can come in multiple different types. For instance, we have dry rot, moisture deterioration, insect damage (termite damage), or in the case of aluminum patio covers, denting.
No matter which type of material you have, be it wood or aluminum, pergola, lattice, or covered roof, we have a solution for repairing your patio cover. Obviously, as a patio cover construction-only company we have access to all types of materials finishes completing just about any job, large or small throughout Los Angeles. It seems as if patio covers in Los Angeles are a termite's best friend.
Wood rot in patio covers
Wood rot in patio covers is a type of damage that will likely necessitate significant patio repair. Not only will rot appear as unsightly it can also be a significant structural and thus safety concern. In some cases, this rot can cause such catastrophic structural damage, we literally have to red tag the cover from any access underneath.
In a word, our job is to replace all Wood rot, deterioration, or termite damage in your patio cover and make it yes... good-as-new.  Our services range from new work like building new patio covers to annual service, and repairs. We help those who have no idea who to call. From Ventura Blvd to Santa Clarita and beyond.
Get a Wood Patio Cover Make-over
Over many years time, deterioration in wood patio covers is inevitable. Moreover, wood patio cover deterioration is almost expected. It's important to realize that the sun will wreak havoc on wood over long periods of time as does the elements. Havoc comes in all types of forms, even insects. Termites are insects that will literally destroy a patio cover in less than a few years. Alumawood is the only material we sell and your best bet against termites.
With so many contractors local to Los Angeles, there are no patio cover only contractors. Where many contractors dabble in building patio covers, few are specialists. Nonetheless, we are patio cover-only contractors. As a matter of fact, we only work on Alumawood patios, wood pergolas, and walk-on decks. That being said, occasionally we will pour a patio slab and even install some decomposed granite, but that's rare nowadays.
---
Professional. Licensed. Insured.
We're not what you'd call..."Chuck-n-a-truck" contractors. Actually, we (patiocovered) are a local, professionally licensed general contractor and construction company. We carry just about every type of insurance you can possibly think of. From professional Commercial car insurance, general construction liability to worker's compensation. All for the protection of our clients.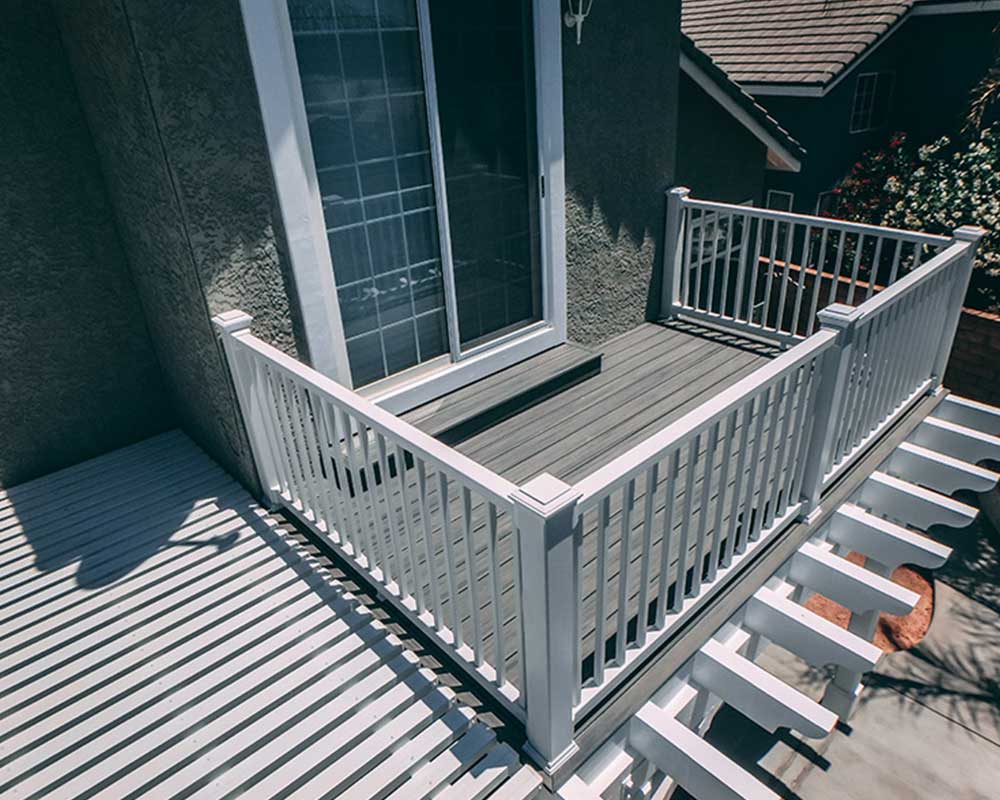 Wood Deck Repairs in Los Angeles
We service more than just the patio cover... we also service wooden decks. In the event your wood deck suffers moisture damage and is in need of repair, we perform wood deck repairs through the Los Angeles area for an affordable price. In many cases, most decks that suffer insect or wood rot can easily be repaired. Repairs that are significant or otherwise structural, are well within our abilities. On the other hand, we have the ability to coordinate with engineers to facilitate even the most difficult repairs.
Most repairs with walk-on decks are performed with composite materials such as Trex for example. This is to say the material is not real wood or therefore subject to deterioration or insect infestation.
Termite damage and patio cover repairs
If natural deterioration of your patio cover does not occur, then it's likely to be infested by insects such as termites. In contrast to dry rot, these little buggers will cause damage to the cover and you'll never know it. How do they accomplish this? Easy, these termites will burrow into the wood and eat it from the inside out. Without knowing the signs of termite damage, you may never recognize it. We perform patio cover repairs for termite damaged wood patio covers throughout Los Angeles.
Trex decking contractor in Los Angeles
Patiocovered offers a full line of Trex composite decking solutions. Trex composite decking is a beautiful solution to traditional wood deck and railing materials which are as previously mentioned, not susceptible to damages like wood.

---
INSTALLER OF TREX DECKING THROUGHOUT THE GREATER LA AREA
Trex is Different from wood just as Aluminum is, Trex composite is a material that may cost slightly more than wood, but lasts forever… or at least a very long time. As Trex decking contractors here in Los Angeles, we have a great relationship with the suppliers which gives us great pricing breaks. As a result, we transfer those savings onto you the customer.
---
---
LOS ANGELES PATIO COVER CONTRACTORS
Serving all of the greater Los Angeles areas
ALUMAWOD PARTS and SERVICE
Aluminum Patio Cover Repairs and Service
Most times, when we think of aluminum patio covers such as the ones manufactured by Alumawood, Duramax, or Lustercote, we assume they are damaged easily. Most times, this is not the case. The biggest contributing factor to this is choosing the right thickness of aluminum for the cover, for its specific application.
Aluminum patio cover repairs are what we do. No matter which part is damaged, we have a replacement repair for it. In fact, as one of the only Alumawood patio cover repair contractors, these services make up a large percentage of our overall business. If your Alumawood patio covers are in need of service or repairs or something more substantial like a new beam, lattice bars, or plugs... we have all that and more. Give us a call and we'll get you a quote.
Aluminum Patio Cover Replacement Parts
Whether you wish to hire an aluminum patio cover repair contractor like patiocovered.com to facilitate your repair project or you wish to go it alone, we have the Alumawood replacement parts for you.
Depending on which Los Angeles Ca manufacturer built your patio cover, we can obtain parts for most all companies such as Duraloom, Alumawood, and Lustercote. Aluminum patio cover replacement parts are mostly, very easily obtainable and can be available within a few days of your order. Even if the cover you have is a kit, we can still help with installation or instructions on how to install a patio cover.
---
Faq's
Do you repair patio covers in the Los Angeles area?
Patio covers in Los Angeles are no different than patio covers anywhere else in Southern California. Although the Los Angeles area seems to be a prime environment for termite wood damage, so too is dry rot.
Can you repair Alumawood covers in the city or county of Los Angeles?
We can indeed provide repairs for the Alumawood system. We've installed countless hundreds of aluminum patio covers in Los Angeles and even have parts readily available.
Do you sell patio cover kits or DIY Aluminum pergolas and do you have instructions?
We sell 3 different styles of patio cover kits and pergolas. There is the solid insulated roof cover, the non-insulated Newport cover, and the laguna lattice cover. We also sell the 4K line as well. Instructions are available on our website.
How much does it cost to repair patio covers?
Unfortunately, there is no formula to figure out the costs associated with preparing a patio cover or pergola. Most often, we'll need to stop by your location to determine the full scope of the damage. Typically, especially during escrow, the homeowner will have a termite report. These types of reports are perfect for providing estimates because they are usually pretty detailed.
What type of maintenance is recommended with the aluminum patio covers compared to the wood patio covers?
So the aluminum pergolas oftentimes need no maintenance, except to be washed like a car. In fact, they are very much maintenance-free. On the other hand, wood patio covers require a great deal of attention. Whether it's annual painting or inspections for termites and dry rot, wood patio covers require annual upkeep. Painting a lattice patio cover that's 10 x 10 for example, can cost upwards of $3000+.
Summary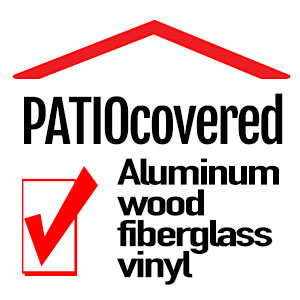 Article Name
Description
In the event that your patio cover ever becomes damaged, have no fear there are solutions. Patiocovered.com specializes in patio cover repairs of all types. Our team of specialists are familiar with all types of patio covers because after all, it's all we do. For the most part, damage can come in multiple different types. For instance, we have dry rot, deterioration, insect damage or in the case of aluminum patio covers and denting.
Author
Publisher Name
Publisher Logo