Reading Time:
9
minutes
Patio Cover Repairs in Santa Clarita
PATIO COVER REPAIRS NEAR ME
Nothing in life lasts forever. Let's face it, here in sunny Southern California, the sun seems to destroy everything. What types of wood structures are susceptible to damage? Patio covers, pergolas, and decks. These wooden structures are vulnerable too many types of damages, for example, dry rot repair, moisture-damaged wood, and deterioration. Likewise, insects such as termites are a serious contributor to patio cover damages. For this, there is a solution. Wood patio cover repairs here in Santa Clarita.
We're a local patio cover contractor, which means we know local code and standards. Patio covered provides life to your otherwise dry-rotted, deteriorated, or termite-infested patio cover, pergola cover, or deck structures. The wood used to construct patio covers or decks exposed to the elements such as water, sun, and wind as mentioned. So it's natural that in time these conditions cause wear and many times damage to the wood. No matter how much you paint them. Don't get me wrong, paint is the only life-saving component of your covered patio. This goes for shade bar covers and decks. Dry rot and deterioration are just going to happen. Without waterproofing of some type, the cover will without a doubt, turn to dust before your very eyes.
The life cycle of a Wood Patio Cover, Pergola or Deck
Most homeowners do not realize that once a wooden structure has been installed, routine maintenance such as painting or staining is necessary. Sealants like paint or stain will reduce the impact that the sun and water have on wood.
Regarding the Berkeley balcony collapse

…

 "the cause of the accident with the likely cause being that the balcony of the building was not constructed properly leading to dry rot developing, leading to the balcony to become structurally compromised. Overwhelming evidence points to dry rot as having caused the collapse, and not the weight of the 13 students on it at the time".
WIKI
UV rays from the sun are harsh and can cause wear to the paint and sealant used on the wood resulting in the weakening of the paint thus making the wood even that much more vulnerable to moisture entering bare or exposed areas.
Ultimately, the moisture in turn will cause rot and damage to the wood making it structurally unsafe. This condition is cause for concern as walk-on decks are vulnerable to catastrophic failure such as collapse.
Thirty years seems to be the magic number for Pergolas
We've found that for some reason, thirty years is the magic number for the lifespan of a wood pergola in the Southern California area. Covered patios, shade bar structures, and even decks are all susceptible to deterioration type damage on some level, over time. Not that one type of rot is better or worse than another, it's actually pretty much the same here in this Los Angeles climate.
All things considered, it really just comes down to how much time you're willing to sacrifice. That is, to keep your patio cover or deck in good condition.
Patiocovered.com can provide routine maintenance on a regular or as-needed basis to help prevent moisture damage to patio covers and decks within the Santa Clarita valley and throughout Los Angeles.
Santa Clarita Valley Locals
We live local and work locally here in Los Angeles County. As a matter of fact, I remember living here as a kid here in Southern California and going to school in my VW bug with a "locals only" bumper sticker on the back of my car. Well, many years later, we're still living in the same Santa Clarita now a city, within the San Fernando Valley, yet still a local to the area.
Being a local patio cover contractor, I probably just like you work and shop in the general area of where we live. I think it's great to give something back to the local business out there that work hard for the people in their community.
the next time you search "contractors in my area", be sure to give us a shot. There's a good chance we can help you with whatever issues you have with your cover or deck.
Patio Cover Contractors | Santa Clarita
It's a fact that moisture damage to patio covers and decks can cause structural instability. This condition is due to the weakened members of wood. Patiocovered can assess this type of damage and replace damaged portions of patio covers and decks affordably.
Under certain circumstances demolition and removal of the existing patio cover or deck is necessary. Removing a deck or patio cover from an existing wall requires patching. We do that. Certain situations may require the rebuilding of a new structure in its place which we can estimate as well. Each and every situation is different and Patiocovered is ready to help.
If you're in an escrow and need work on your wood cover or deck, we work with termite inspection reports. Many times we can provide competitive bids to match or beat those of the pest control companies.
Patio Cover Construction
We build patio covers and decks. We perform wood patio cover repair Aluminum patio cover repair and wood deck repairs by a local patio cover contractor. That said, patio covers have a few different names such as pergolas, lattice covers, shade bar covers, roofed covers, and awnings. Whatever name you call them, to us, they're all patio covers. Keep in mind that we specialize in covered patios. We don't remodel kitchens or bathrooms. Our services don't include flooring, interior painting, or wallpaper. In a word… we are patio cover contractors. Well, that's five words but what the hey, you know what we're saying. Point being… when you call patiocovered.com, we eat sleep, and breathe covered patios, pergolas, shade bar lattice covers, and decks. What you get is a company that knows local code, product material, and installation. It's all we do 365 days a year.
Building Codes Change… This May Impact Your Repair
We run into this all the time… a potential customer calls for a repair only to find out that the repair requires new permits. It's safe to say this leaves the client a little confused, curious, and sometimes angry. The city of Santa Clarita requires us as contractors to obtain a building permit when structurally modifying an existing patio cover or deck. What is structurally modifying a cover or deck? It can mean completely remodeling it from an earlier code cycle or replacing structural components. Let's take wood deck repairs for example. An unsafe deck due to structural instability is a hazard to anyone under or over the structure. With this in mind, walk on deck damage is the type of damage the city takes extremely seriously. Their position is; they don't want just anyone replacing structural components with new undersized or unstable members. Important to realize that the city just wants to "double-check" the prescribed repair to ensure the safety component is first and foremost.
Wood Deck Repairs
Decks are built with much more demanding expectations of the building code than let's say… a lattice style patio cover and for good reason. Given the more recent deck accidents such as the one in Berkeley, California a little while back, it only makes sense that the standards by which decks are constructed are extremely tough. In that particular case, the deck was not constructed properly leading to dry rot damage.
Wiki, "the likely cause is that the balcony of the building was not constructed properly leading to dry rot developing, leading to the balcony to become structurally compromised. Overwhelming evidence points to dry rot as having caused the collapse". This statement pretty much sums it all up. Incorrect construction, old weathered wood… it's doesn't really matter how you get rot, it's still just as hazardous.
It's just a fact. You can't compare the construction of a deck to say, an interior bedroom. According to the California Residential Code, section 301, decks are built to withstand up to 40 pounds or "load" or force per square foot. Bedrooms on the other hand, only require up to 30 pounds per square foot or support against excessive loading. Contrary to what many believe, dry rot in posts or beams is not a significant structural concern. Trust me, it is. Wood deck repairs have to be taken very seriously.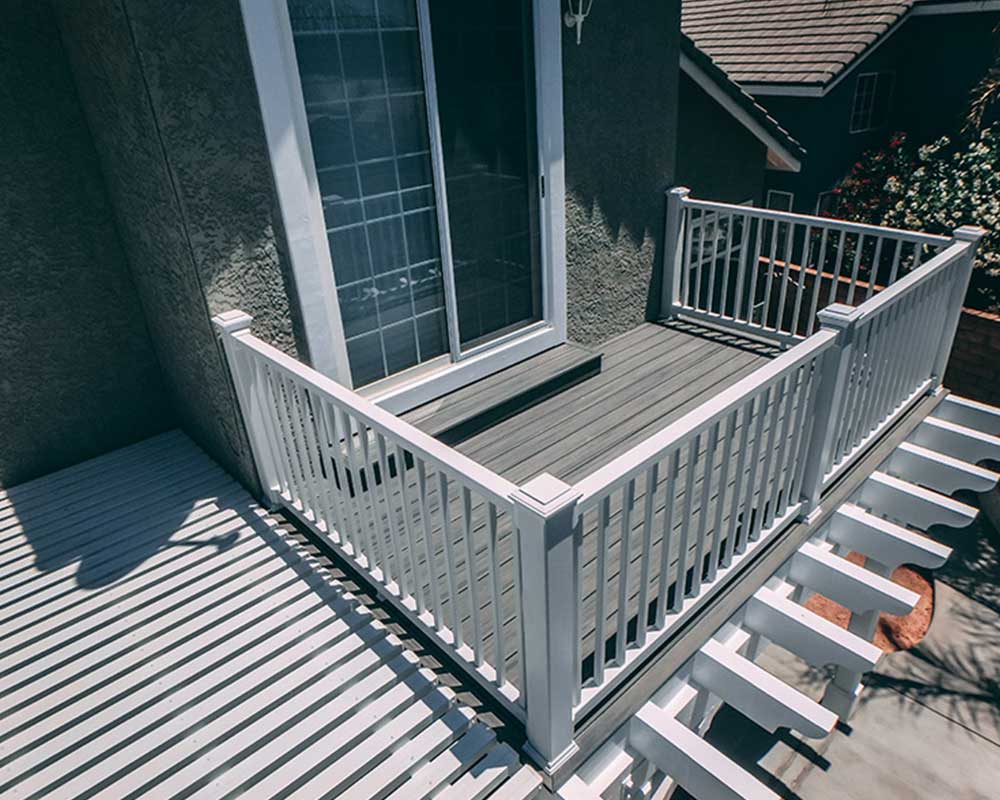 Engineering Required
Understand that in some cases, engineering tradesman are required to perform structural calculations for wood patio cover repair and wood deck repairs. The heck you say? Yes, the heck we do say. There are cases where we attempt to perform repairs on a deck or balcony for example, and the unit is attached to the side of a building without permits, to begin with. As responsible contractors, we must inform the client that in cases such as this one, an engineer must be obtained to write a "prescriptive" method of installation for this new addition (replacement) or significant repair. What's a significant repair? An example of a significant repair would be replacing a structural beam. Likewise, breaking open the building's stucco wall to flash the deck is a significant repair.
Wood Deck Repairs
Calling all DIYers. Charge those batteries. It's time to dust off those cool cordless tools you got last year for Christmas and finally put-em to work. That's correct, it's time to build your own patio cover. Patiocovered offers DIY, do it yourself patio cover kits. These kits are an Aluminum patio cover and can be found here. Aluminum patio covers by Amerimax or Alumawood will never rot, deteriorate or even require maintenance (except washing). If you need help, we even have a video and PDF which walks you through the process step by step. If by chance you were to ever need additional parts, we have those too.
Wood Pergola Repairs in the Los Angeles Area
Not only do we service the Santa Clarita Valley and surrounding cities, but we also service all of Los Angeles. So no matter where you might be in Los Angeles, Beverly Hills, Agoura, Westwood, Hollywood… we can help you. Just give us a call
FAQ's</h2
Do you sell Alumawood parts?
---
We sell a complete line of Alumawood parts. Not only do we sell these components, we actually installed them as well. Whether you need a post, a rafter, a beam, or a lattice shade bar, we have exactly what you need in your zip code. Alumawood parts and service to get you started. There are a great many Southern California contractors who sell and install these Alumawood aluminum patio covers and pergolas but do not sell parts or accessories.
Do you repair decks in Santa Clarita Ca?
---
Our technicians work on all things wood related. In fact, we repair hundreds of patio covers and decks every year. If it's dry rot or termite damage we can take care of all of your wood deck repairs in Los Angeles and beyond. Most of the deck repairs we perform here within the Santa Clarita Ca area tend to be for houses that are in escrow. In many cases repairs to decks will require building permits, Rarely is it the case where permits are not needed. That would be for things such as decking, railing, or painting. Other than that the majority of pieces on a wood deck are in fact structural. In other cases eve, engineering may also be necessary to complete some of these repairs.
Do repairs require building permits?
---
Not all patio cover or deck repairs require building permits. That said, however, building permits are required for structural modifications to the patio cover. Replacing wood beams, some types of rafters, wood ledgers, posts, or roofing will typically require a building permit. Outside of this, a building permit is not necessary for such things as re-painting for example.
Also, if more than 10% of the patio cover needs to be replaced in Santa Clarita, a building permit is needed.
Can we perform patio cover repair on homes that are in escrow?
---
We perform wood patio cover repairs locally here in Santa Clarita Ca for homes that are in escrow, all the time. in most cases, these houses have recently had a termite inspection performed. Afterwhich, the termite inspector will generally suggest a number of repairs ranging from rotted trim to termite-infested wood. Upon completion of these repairs, a release or clearance is issued stating the wood has since been repaired. Call us today to get started.
Summary
Article Name
Description
Patio covers and decks deteriorate. We fix or otherwise repair patio covers and decks
Author
Publisher Name
Publisher Logo