Reading Time:
2
minutes
https://patiocovered.com/stories/4k-aluminum-patio-covers-in-los-angeles/
4K Aluminum Patio Covers – NOT THE OLD ALUMINUM (ALUMAWOOD)
Here in Los Angeles, we've all heard of Alumawood, Duralum, and all the other Aluminum patio cover manufacturers. There's one company you've probably never heard of. The 4K Aluminum Patio Cover company. This is likely because the 4K patio covers are new here in Los Angeles California. Give it time. I'm sure these patio Covers will revolutionalize the industry.
Here in Los Angeles, the aluminum patio cover company has literally taken over. Albeit there are many reasons why aluminum patio covers are a good decision, first and foremost… aluminum doesn't rot or deteriorate. Despite the fact that aluminum patio covers are less expensive than wood patio covers. Still, I'm not sure this is the main reason for their popularity.
Within the aluminum patio cover world, there are a few different manufacturers. Like for example, the 4K Patio Cover company. There are some who'd argue that this new company is much better than the others like for example, Alumawood or duralum.
So what makes the 4K Patio Covers a better product?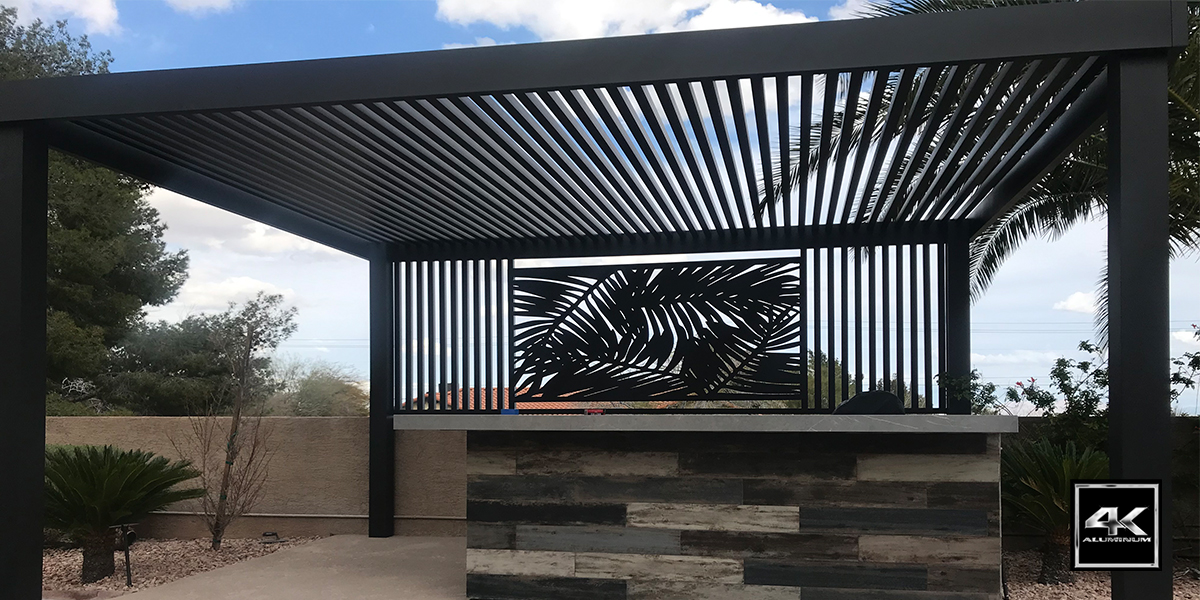 On one hand, the 4K patio cover is aluminum like the others. On the other hand, it's extruded aluminum, not roll-formed. Nevertheless, these
Patio Covers
are able to span much greater distances with fewer posts in between.
4K is thicker than Alumawood
The 4K is stronger than the Alumawood
Finally, the 4K is powder coated which offers better protection to the elements
---
Of course, that was a shortlist but rest assured, the 4K Patio Covers are certainly a step above the competition.
Comparing 4K to Alumawood patio covers
While comparing the 4K Aluminum Patio Covers to the Alumawood for example, keep in mind they are literally apples and oranges. In a similar fashion, they are both aluminum. That said, however, the 4K is much thicker. Another attribute is the paint. The 4K is powder coated as opposed to painted on. Many will agree that powder coating is a finish that outlasts traditional paint applications.
In addition, the 4K Aluminum Patio Covers are smooth whereas the Alumawood has a wood-like grain. Also, the 4K's corners are smooth. Contrast this with the Alumawood corners and you'll see they are completely different.
How much are the 4K covers Price-wise, expect to pay up anywhere from $50 per square foot to $75 for the 4K Aluminum Patio Covers. Whereas the Alumawood, depending on the style you choose can set you back as little as $25 per square foot. Obviously, the 4K product is more expensive. Then again… the 4K offers more patio cover here in Los Angeles for your money.

Summary

Article Name

4K Aluminum Patio Covers - NOT THE OLD ALUMINUM (ALUMAWOOD)

Description

Here in Los Angeles, we've all heard of Alumawood, Duralum, and all the other Aluminum patio cover manufacturers. There's one company you've probably never heard of. The 4K Aluminum Patio Cover company. This is likely because the 4K patio covers are new here in Los Angeles California. Give it time. I'm sure the 4K Lattice Patio Covers will revolutionalize the aluminum patio cover business. Here in Los Angeles, the aluminum patio cover company has literally taken over. Albeit there are many reasons why aluminum patio covers are a good decision, first and foremost... aluminum doesn't rot or deteriorate. Despite the fact that aluminum patio covers are less expensive than wood patio covers. Still, I'm not sure this is the main reason for their popularity.

Author

Publisher Name

Publisher Logo