Reading Time:
3
minutes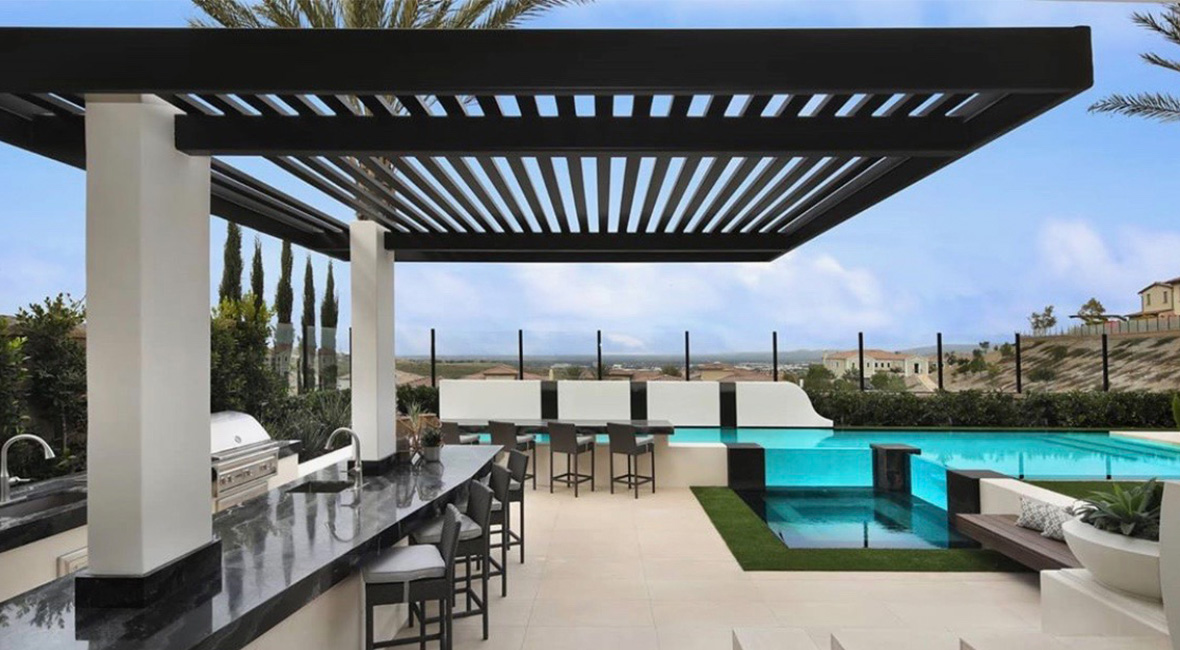 4k Cantilevered Pergolas | Los Angeles
Introducing one of the most recent additions to the pergola market, the 4K aluminum pergolas. Based out of Las Vegas, 4K aluminum offers style by way of an extremely contemporary-looking pergola system. Most especially, with their Cantilevered Aluminum pergolas.
With only 4 posts, these patio cover systems are able to provide a massive amount of shade while limiting their footprint in your backyard. They do this by way of reducing the outer posts and connecting the outer beams to only rear supports.
What Is a Cantilevered Patio Cover
For the most part, the cantilever structure is effectively just a patio that has the ability to accommodate larger sizes and hang past a certain point without the use of multiple posts.

Thus covering your entire outdoor space and allowing more area to freely walk unobstructed. Not to mention, the lack of posts will allow those with views to enjoy them.
4k is Professionally engineered
The system is lightweight enough that it can carry the load imposed by wind, snow, or earthquakes. All this is achieved through precision engineering. Even with the addition of privacy walls, these pergolas are safe and yet beautiful.
Benefits of using 4K aluminum pergolas over wood
One main benefit to using the cantilever patio cover is the lack of maintenance that the durable aluminum provides over wood patios. Enhance your outdoor living area with one of their 4K aluminum modern, beautiful, cantilever designs.
In other words, no more painting or annual scraping in order to keep your pergola from turning into dust.
4k aluminum pergola | Aluminum pergola, Aluminum patio covers, Aluminum patio
The majority of patio covers that the 4K aluminum company products are lattice pergolas with can also accommodate larger sizes. That said, the 4K aluminum company can also build fences, gates and beautiful walls for privacy. All while maintaining the modern design and styles you need in your home.
Turn Your Outdoor Space Into Your Bragging Headquarters
Start with the right design. Look at photos, and videos or visit our showroom at 21170 Centre Pointe Parkway Santa Clarita, CA 91350. There you will find a 4k aluminum pergola on display and other elements of the 4K systems that you can see, feel, and touch. If that doesn't work, we can help with all types of designs to achieve your dream pergola.

Once the pergola you design is installed you will have this amazing bragging headquarter. So get ready to make all your friends envious.
Other Uses of 4K Cantilever Aluminum Pergolas like Privacy Walls
I know we've mentioned that the 4K aluminum pergolas can cantilever and accommodate larger sizes but did you know these pergolas can be installed with a cantilever off a flat wall or surface?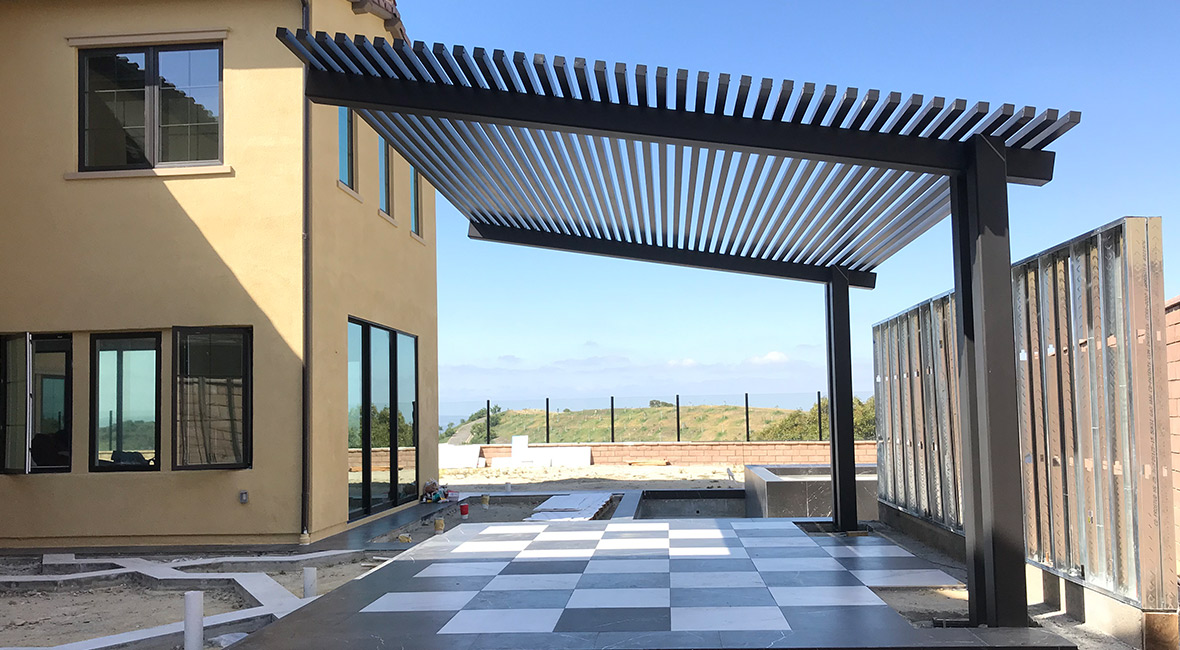 The 4K aluminum pergola system can be used for shade yes, but it can also be used for gates and fencing. The 4K Cantilever patio cover has been used as a separation or privacy wall. It can cantilever past a wall attached via cable or solid beam. This type of cantilever pergola are great over doors or garage openings.
Low Maintenance Aluminum
The 4K cantilever system is powder coated for years of trouble free enjoyment and as far as maintenance, the 4K pergola just needs to be washed like a car. This type of car is necessary and cant wait too long as powder coat is subject to oxidations over long periods of time when its not cared for properly.