Reading Time:
10
minutes
Louvered Roof System
---
Los Angeles's Choice for Custom Louvered Pergolas and Patio Covers
TWO LOUVERED PATIO COVERS TO CHOOSE FROM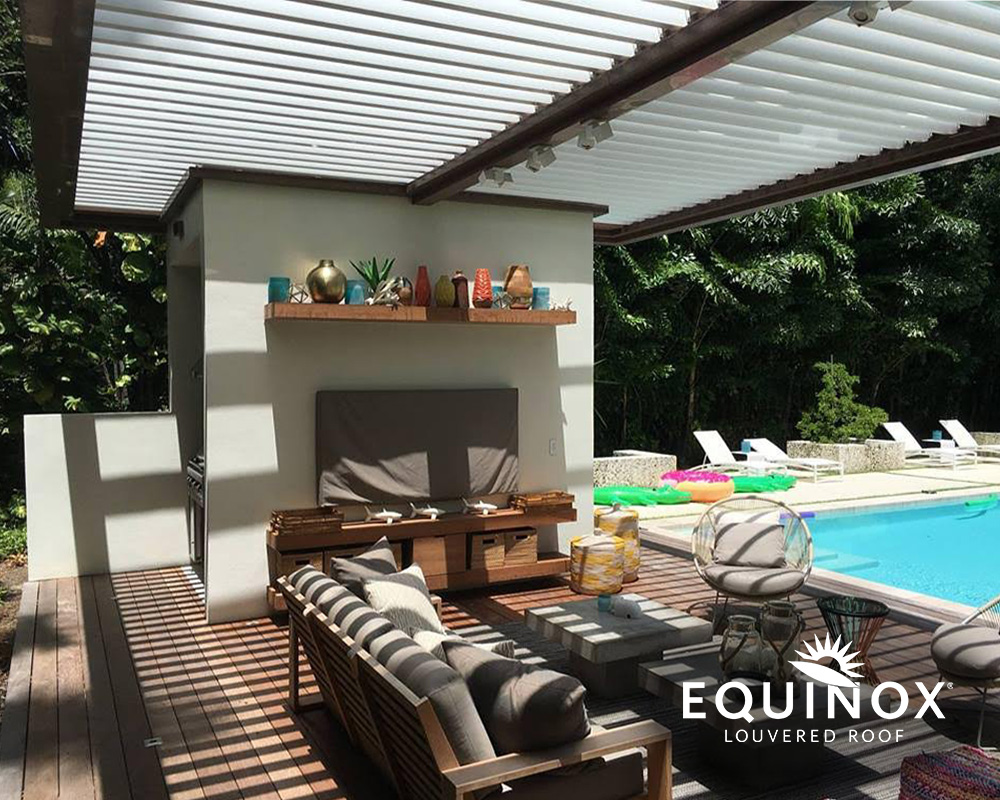 Adjustable Louvered Patio Covers in Los Angeles
The cost of a louvered roof patio cover greatly depends on the brand, size, and upgrades. A Solara Louvered roof system will cost about $40 per square foot installed. Whereas an Equinox patio cover can cost between $85 and $100+ per square foot installed...patiocovered
COMMERCIAL | RESIDENTIAL
Whether or not you're a Los Angeles restaurant looking for more outdoor space due to the COVID-19 Pandemic, or just trying to gain a little cozy place in your back yard. No matter what option you choose, these Louvered roof systems create with the touch of a button, an outdoor space you can enjoy all year long.
Louvered Patio Cover Images
Here are a few samples of our louvered roof system, both commercial and residential, completed throughout Southern California. The motorized louvered roof is the perfect way to enjoy outdoor living in your backyard patio all year long.
LOUVERED PATIO COVERS IN LOS ANGELS
The louvered roof system, better known as a motorized, adjustable louvered roof patio covers are made from extruded aluminum. Furthermore, these adjustable patio covers are made right here in the USA. Our louvered roof is engineered to be strong and powerfully sturdy. In fact, the louvered roof can span up to 22 feet, and the louvered blade? Some of the widest in the industry. .
If the main goal is trying to best utilize your outdoor space here in Los Angeles in order to make the most of your time at home during these unprecedented times, the adjustable patio cover is your best option. Prepare yourself to have complete (adjustable) control of your environment for years to follow. Enjoy your motorized louvered roof which will use an integrated gutter system, adjustable remote control light, remote control motorized sun shade, outdoor patio heaters, and a touch of a button control weather protection in the form of rain and wind sensors.
These Equinox aluminum louvered roof systems and patio covers are specifically designed to hide all of the unsightly exterior screws and hardware in order to create a sleek, streamline louvered pergola system. The internal gutter system takes care of the water runoff, keeping you completely dry underneath even during rain.
LOUVERED ROOF COLOR OPTIONS
There are standard color options as well as designer color options for your Louvered Patio cover. Let's say you don't see a color you like in our arsenal of color options? Easy... choose your very own custom color because color matching is also an option.
Not only are these louvered roof systems beautiful to look at. They are equally beautifully protected. No matter the weather conditions, this extruded aluminum is fully protected day and night from the hot sun, cold winter, and rainy months with a baked-on powder coated paint. The rain and sun don't stand a chance against corrosion or deterioration for years.
LIGHTING FOR LOUVERED ROOF SYSTEMS
The unique, patent-pending integrated lighting system by Equinox® for example, is truly one of a kind. Choose to either light the entire area of your patio with lights built-into the framework, or, you can add ambient red, blue or green illumination with lights built-into the gutter.
Touch of a button Ambient lights are not seen from the bottom but shine upwards in brilliant color (or white). No matter what look you're trying to achieve, our louvered patio cover system has it all.
ADD HEATERS
Having the right heating option for your louvered patio cover system or pergola is not just a good idea with multiple benefits, it's a necessity. Heaters are an excellent way to provide just a little bit more time relaxing under your Louvered patio cover in the brisk evening. Bromic Heating is designed to provide sun-like heat within your backyard area space with the most innovative heating options on the market.
Touch of a button operation offers complete control over these heating units without ever leaving your chair. Our heaters can be either flush mounted into our louvered roof systems framework, or, surface mounted and work off the same remote control. Regardless of whichever you make your own, the look you will achieve is virtually unmatched. Bromic Heating units are manufactured with a fire-rated material, so you have the option to choose from either a gas or electric heating unit.
SMART CONTROLS
Suppose you are on vacation and forget to close your louvered pergola... Or let's say the outdoor weather calls for heavy wind or rain and you're nowhere to be found. No need to worry. Our louvered roof systems come complete with both wind and rain sensors. It's a worry-free option that we include in every motorized louvered roof system we install into your home. Trying to maximize your outdoor living experience? This is the best way... hands-down.
Controlling the lights, the heaters, roll down a sun shade, and rotate the louvered blades with the push of a button. Operating the motorized louvers has never been so easy. To operate your smart patio cover, one can simply choose to use either our proprietary hand-held remote control or load the App onto your smartphone or device to control the louvered roofs operation.
---
How Much Do Louvered Roof patio covers cost?
The cost of a louvered roof patio cover greatly depends on the brand you choose. For example, a louvered roof patio cover from Equinox can cost as little as $65 per square foot and as much as $100 per square foot. Pricing depends greatly on whatever upgrades you choose to add to the cover itself.
The Luminox Louvered roof patio cover is a relatively new product This cover has very few upgrades or add-ons and will thus cost about $50 per square foot.
Outdoor elements is another louvered roof patio cover brand we carry. Of course, not all louvered roof patio covers are equal and this is no exception. At Outdoor Elements in San Diego, Ca, they build a louvered roof patio that is as close to perfect as it gets. The Outdoor Elements patio cover will run between $65 and $110 per square foot depending on the upgrades you choose. Admittedly, this patio cover is probably one of the most beautiful louvered roof patio covers on the market.
What is a louvered roof?
Also known as a patio cover, the louvered roof sun shade patio is a motorized extruded aluminum shade that typically covers the entire backyard patio. These types of patio covers are designed to open closed with the push of a button. Thus providing shade from the hot sun while even protecting your outdoor furniture.
When you think of a louvered patio cover or louvered pergola, one might expect the roof to open and close manually. Not at all. The equinox louvered roof system® for example is adjustable via the use of a motorized system. I suppose the weather is a chief reason why so many choose to own these louvered patio roof structures. And of course why not. When you can have the best of both worlds no matter your local weather calls for sun or rain, it's literally a no-brainer.
Are louvered roofs waterproof?
Louvered roof pergolas are constructed of tough extruded aluminum. The overall design is to allow for years of water-tight reliability when closed, day or night. Adjustable roofs made for a material other than aluminum have a tendency to seep water during the rain. That said, roofs which possess louvers must be constructed of material durable enough to withstand the elements like the extruded aluminum.
The louvered roof produced by equinox louvered roof here in Southern California from our personal experience is extremely waterproof when closed. Therefore if I were to make a general statement concerning whether or not louvered roofs are waterproof I would have to agree and say indeed, they are.
How much is a louvered roof system?
Louvered roof pergolas constructed of powder coated, extruded aluminum and not roll-formed will generally cost around
$85 per square foot.
What you might find, however, these types of patio covers can cost as much as $120 per square foot per roof system. The equinox louvered roof will typically cost around $85 to $100 per square foot. The space or area of the backyard patio will usually be a fantastic indicator of your overall price. A good way to determine the price is to measure this space.
We'll need to calculate the available length times the available width plus the height. If you need to add a new heater or even lighting, there are other services i.e. electrician and/or plumbers to provide the needed gas for the heaters or electricity to the lighting. These ancillary services will add to the overall cost of the new patio cover, or louvered roof system.
How many colors are available for a motorized louvered roof?
If we use the equinox louvered roof as an example, the standard color options for louverd roof systems are somewhat limited. On the other hand, custom colors are almost unlimited which is good, but will absolutely add to the cost of the pergola. The colors offered by the equinox louvered roof are White, Black, Sandstone, Clay, and Bronze. Outdoor Elements, another manufacturer of extruded aluminum louvered roof systems, offers roughly, 22 standard colors. You'll find that overall, most of these manufacturers produce fairly basic colors however.
Are louvered pergola covers hot?
Typically, aluminum louvered roof systems are much hotter in the sun than say... wood patio covers. On the other hand, steel is capable of getting pretty warm in the hot summer. On a positive note, the powder coat paint you get is not only a great protector of aluminum but acts as a buffer so the material isn't as hot in the summer heat especially when incorporating a sun shade. When compared to wood, one might consider aluminum louvered roof system to be fairly warm. Even with a roof, they in fact can be. Wood isn't much of a conductor of heat in the same manner as is aluminum for example so it makes perfect sense that your new adjustable patio would be noticeably warmer to the touch.
Now, with all that being said, we're really only talking a few degrees. It's not like you'd ex[et to receive a third-degree burn from simply brushing up against the powder coated louvered roof system. Perhaps if you held onto a piece for a considerable amount of time in the middle of summer... in Arizona.
How do you open a louvered roof system?
Yes, these automatic roofs are," touch of a button ready." Of course, by design, they operate via remote control or by a phone app in order to maximize your outdoor living experience. In other words, by sheer design, it will open and close without the use of any manual labor. Some brands will incorporate special features such as a sun shade, rain, or wind sensors. In the event of heavy winds or torrential rain, the louvered roof will automatically close.
The most recent upgrade to the adjustable patio cover is the option to use your smart device to operate the louvers on the roof. These days, when considering the benefits of using your phone to open and close the roof the price of having louvers on your roof suddenly becomes worth it. The manufacturers of the Equinox louvered roof system get it as does the company that produces the Outdoor Elements product. Our adjustable patio is not the only thing that operates remotely. Heaters, lights, and shades work off these same remotes and apps. In fact, the manufacture Somfy® also offers a wide variety of touch of a button control options. Many of which are offered by most louver roof system manufacturers.
Do patio covers block light?
The adjustable louvered roof has one single purpose, but many benefits. For example, the adjustable louvered roof will block the sun, protect items in the living space such as occupants or the furniture under the cover from the rain. At night, it can open to allow the stars to shine through. Or, if you love the sun, you can turn the louvers on the roof during the day and enjoy the entire usable space you've created to relax and really enjoy the outdoor living. These adjustable patio systems are designed for the home-owner or business owner to make the most of their useable space below the cover. Equinox louvered roof is just one of the many manufacturers who produce these types of louvered roof systems for more enjoyable outdoor living at your home or office.
What is a louvered pergola?
A patio cover that opens and closes automatically, with a push of a button is typically known as a louvered roof. Having the ability to open or close the roof give the owner the freedom to maximize their living space. Not to mention, have a pergola with a solid roof or open trellis type patio cover which allows light to pass through. In most cases, the louvered roof system opens with the touch of a button or with the use of a smart device.
Unlike the Alumawood patio covers you might run into which are made of roll-formed aluminum, a much thinner material than extruded. The roof on this system is constructed from extruded aluminum which is much stronger and therefore able to maintain a watertight seal, like the equinox louvered roof for example. If you have useable patio space and desire a patio cover for your home with benefits, the louvered roof system is exactly what you are looking for.
patiocovered.com all rights reserved copyright 2020