Reading Time:
5
minutes
Anatomy of a Wood Patio Cover
---
---
Anatomy of a Patio Cover
---
Who would have ever guessed that there are so many components that make up a simple patio cover? Well, for those of you who are not contractors, some of these terms such as ledger, post or beam might seem foreign. So we ran straight to our photoshop program, dusted it off and went to work to create a sort-of road map for those of you who are trying to understand the various components within this structure.
So here ya go… take a gander of the image we have here for you. Use it to reference when you are browsing our patio cover selection. If you have questions you can always call or email us. We'll get back to you super quick.
---
---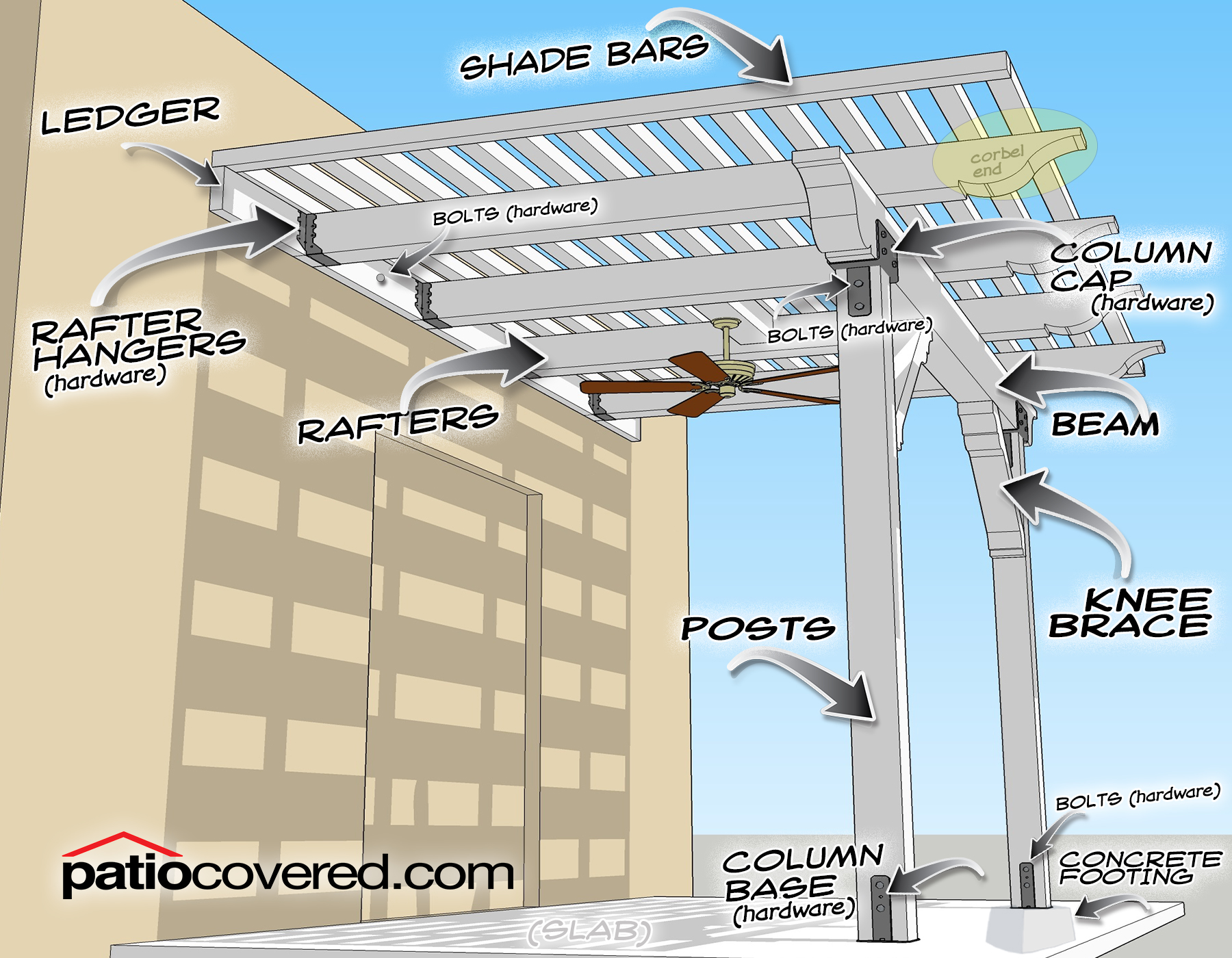 ---
---
---
Wood Rafter Corbels
---
Rafter and beam corbeling is basically the "end cuts" of the  wood beam and rafters.  We have a few different styles of cuts for you to choose from but for those of you who are creative, we can do custom cuts as well.  The custom cuts are a few bucks more depending on the complexity of the cut but probably no more than a trip to Micky D's these days.
---
---
---
Wood Corbeled Knee Bracing
---
No… knee bracing is not that thing your doctor gives you when you twist your knee snowboarding… although it can be I suppose. Here, we're using the term to describe the wood support brace which connects the beam to the post.
As you can see in the image we have a few different cuts to choose from but once again, you are not limited by what we have to offer. You can create your own design so long as it's doable. And by "doable" I mean, having your signature carved into these members might be difficult even for the best "carver of wood".
---
---
---
---
---
Wood Post Options
---
Wood posts are the supports which literally hold up the entire patio cover structure and will be attached at the base and top with hardware. In most cases the post is covered by "trim" to hide this hardware. The trim we provide is illustrated in the "standard" image.
Although you can always choose to add a little "bling" to the posts by have them customized as well by choosing the upgraded trimmed-out, fluted version of the post.  The fluted version essentially has wood which was routed in the center, in vertical rows as shown in the image. We think it gives the posts that, 90210 look and if thats what you prefer, we'll make it happen.
---
---
---
Shade Bars
---
If the patio cover doesn't have a roof then it is likely covered with shade bars. These nifty pieces of lumber are installed perpendicular to the rafters close together, in order to shade out the sunlight just enough that you can sit comfortably under the cover and not get sun burned. These shade bars come in four sizes, 2×2, 2×3, 3×3 and 4×4 so chances are we have a size that fits your choice of cover. That's not to say we cant install bigger lumber up there. I mean, so long as the cover can support it… we'll put logs on top of your cover for you.
---
---
---
---
---
---
SMOOTH vs. ROUGH
---
SMOOTH
If there's one consistent theme throughout our website, I'd say its choices. We're sort-of like the Burger King of construction in that here too,  you can have it your way.  There must be a thousand ways in which we can effectively describe "smooth" right? I mean, we've all heard the idioms right? "Smooth as silk, smooth as glass, smooth as a stucco bathtub…" Well here, wood has no exception. Although we have the ability to receive wood in multiple different finishes and types, we will generally only order wood in two different finishes, smooth or rough.
With a smooth wood finish, it's just that, smooth to the touch. Smooth wood provides us with a surface which can be easily prepped for either paint or stain.
ROUGH SAWN
There are those of you who may prefer things rough or rustic, we have a wood type just for you. With rough sawn wood, the wood comes with a rough outer finish that gives it that Tuscan vibe especially when you combine the cover with stone faced pillars. Rough sawn wood is also easily prepped and holds a stain very well and yes, it can even be painted.
Not to worry, if you are still having a hard time choosing, when we meet we'll bring samples of the different finishes so that way you can literally feel the differences.  
---
---